Streak of
BHS

boys' state trophies snapped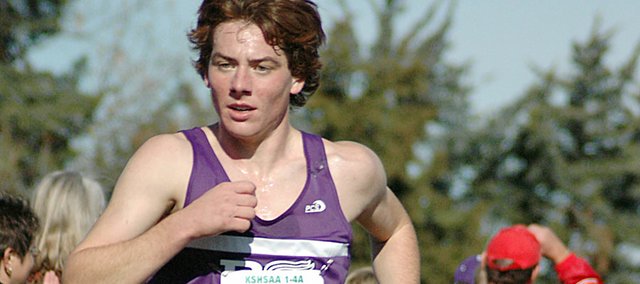 Photo Gallery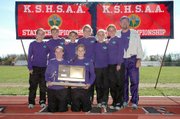 BHS state cross country
Baldwin High School's cross country teams competed at the Class 4A state cross country meet in Wamego. The girls' team won its third straight championship, while the boys' team finished fourth.
Wamego — For the first time since 1996, the Baldwin High School boys' cross country team left here without a Class 4A trophy.
During that span, the Bulldogs won eight state championships, placed runner-up three times and finished third twice. The Bulldogs'created their own Kansas cross country dynasty.
All of that came to an end Saturday. BHS scored 148 points and placed fourth as a team. Mulvane won its third straight title by scoring 30 points. Wamego (51) finished second and De Soto (120) placed third.
"All things come to an end," coach Mike Spielman said. "The Iola coach came up to me after and said, 'This is the first time your boys haven't won a trophy in a long time.' So yeah, it's been a while."
Junior Tony Weiss agreed with his coach, but said it was tough not leaving Wamego with a trophy.
"I thought we did well as a team," he said. "It's just tough knowing that coach has won like 13 straight trophies on the boys' side."
Baldwin had a chance to finish third as a team. Sophomore Brian Wright suffered a foot injury during the middle of the season and missed three straight races.
Wright ran at the 4A regional meet and started Saturday's state race. He pulled out of the middle of the 5-kilometer race after grimacing in pain for several minutes.
"He was sore," Spielman said. "He gave it a go at regionals, but that maybe made it a little sorer. All he could do was give it a try. I know he wanted to be out there really bad. That's two years now he hasn't been at his best at the state meet, but hopefully he will have a good one next year. He really wants to do well for himself and the team."
A healthy Wright was projected to finish in the top 10 at the state meet. That would have moved Baldwin in front of rival De Soto for the third team spot. However, Spielman knows it didn't happen, but he was proud of the other runners.
"We ran as well as we could have without Brian in there," he said. "He was trying as hard as he could and I know he wanted to help the team, but when you're hurt, you can't do anything. Coming in, we were ranked fourth and that's where we finished without him."
Other BHS runners concurred.
"Everybody stepped it up with Brian not finishing," Weiss said. "That helped a lot. We could have done worse than fourth without our second guy."
Weiss again led the Bulldogs with his third top-four finish at the state meet. As a freshman, he placed fourth. A year ago, he finished runner-up. On Saturday, Weiss placed third in a time of 16:38.06.
"I thought I ran well," Weiss said. "I would have liked to have placed a little higher since I was second last year, but I ran the best I could. I was happy with it."
He finished 19 seconds behind the leaders, who raced neck and neck down the home stretch. Wamego's Riley Woodward edged out Mulvane's Evan Landes at the end.
Weiss' game plan was to stick with those runners, but said he fell behind too far during the middle of the race.
"I wrote in my script that I was going to come through the mile at 5:02 and then I did come through at 5:02," he said. "That was kind of cool to do. So I was right where I wanted to be, but then I fell back a bit near the two-mile mark. I just couldn't catch back up to them."
Baldwin nearly had another state medalist Saturday. Sophomore Tosh Mihesuah finished one place away. He placed 21st in a time of 17:31.61, which was three seconds from a state medal.
"I was really happy with my race," Mihesuah said. "I tried my best, but I was sad that I was one place from medaling. I heard people yelling at me and telling me I was around 21st or 22nd."
Last fall, Mihesuah finished 37th in a time of 17:45.73. Spielman was proud of his progress from a year ago.
"He finished in that tough spot," he said. "He made so much improvement from last year. I know he would have liked to medal, but that's a great run for a sophomore. He was one of those guys that was kind of sick, but still able to run."
Baldwin's other four runners, all juniors, also dealt with some illness during the season, especially late in the year. They were Joey LaBuda (42), Kyle Garcia (67), Carson Barnes (70) and Ethan Horne (71).
"We didn't have anybody blow up and run a really bad race," Spielman said. "It was a good day. They ran well and tried as hard as they could. That's all you can ask."
When asked if the boys' team tried cutting sugars out of their diet like the girls' squad, Weiss said they tried … sort of.
"We tried. After league, we said no sugar until after state," Weiss said. "I held my part for the most part. Joey had no chance of making it. Brian, I think did pretty well, except the day before state I saw him eating doughnuts. I think Carson did it. Garcia was hopeless. Tosh was hopeless, too. We kind of tried, but it didn't really work out. Maybe we will try again next year."
BHS results
3. Tony Weiss, 16:38.06
21. Tosh Mihesuah, 17:31.61
42. Joey LaBuda, 18:10.24
67. Kyle Garcia, 18:36.32
70. Carson Barnes, 18:44.2
71. Ethan Horne, 18:55.25