State title trifecta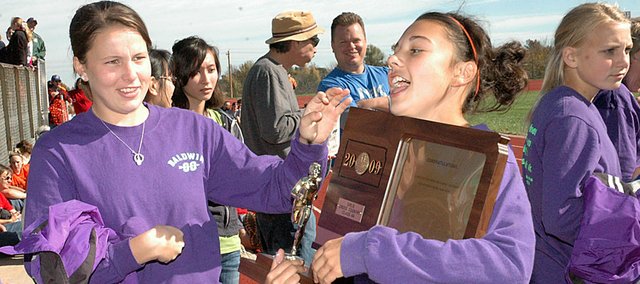 Photo Gallery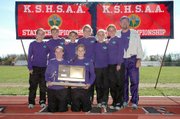 BHS state cross country
Baldwin High School's cross country teams competed at the Class 4A state cross country meet in Wamego. The girls' team won its third straight championship, while the boys' team finished fourth.
Wamego — Seconds after the Class 4A girls' cross country race here Saturday afternoon, it was obvious who the champions were … again.
Baldwin High School won the state title by more than 40 points for the third consecutive season as it completed its three-peat. All three state championships have been won with ease by the Bulldogs.
"I was very excited to get my third win in four years," senior Julie Hill said. "It meant a lot to end the season that way."
The Bulldogs scored their lowest total as state champs. Their 40 points were enough to win by more than 50 over runner-up De Soto (92). Wamego scored 133 to finish third for the fourth straight season.
En route to scoring 40 points, the Bulldogs medaled six of their seven runners. All seven finished in the top 30.
"They've done a great job all year," coach Mike Spielman said. "It was pretty dominating today to get six in the top 18. They ran really well and now have won three in a row and six of the last eight now."
Since winning their first state title in 2002, the BHS girls' team has won five more championships. The Bulldogs now own six of the last eight 4A titles, including the last three.
"I never would have guessed this would ever happen," Hill said. "I knew we were a good team my freshman year, but I didn't know I would end my career with three state titles."
Junior Heather Karlin and senior Connor Twombly have both gone three-for-three at the state cross country meet.
"It hasn't really sunk in yet," Karlin said. "I wanted it to happen, because I want four patches on my letter jacket. I think it's more about the team bonding and the friendship that I enjoy."
Twombly joined the cross country squad her sophomore year. Since then, she has medaled twice and helped the Bulldogs win all three championships.
"I didn't know what I was getting myself into, actually," Twombly said. "It is pretty awesome going undefeated at the state meet."
On Saturday, Twombly didn't have her best state race. It was her worst as she finished 29th. However, after the race, all she could think about was winning as a team.
"Those were definitely tears of joy," she said. "I was hoping to medal, because I had the two years before. I was just happy that everyone else ran well and we won."
A pair of BHS freshmen experienced the state championship celebration for their first time Saturday. Without Sienna Durr and Kaitlyn Barnes, the Bulldogs' title might not have come. They finished first and third on the squad.
"It feels really good to be a state champion," Durr said. "It's nice to say I am a state champ. I've been looking forward to this day."
Durr bounced back after a regional race where she struggled because of a side ache. She got back on track Saturday by placing fourth in her first-ever state meet.
"It's really exciting to finish fourth my freshman year," she said. "I'm really excited right now. My time wasn't as good as I wanted it to be, but I'm not worried about that. I was hurting a little bit from a side stitch. I was happy with my placing."
In between the freshmen was sophomore Elizabeth Sigvaldson. She improved from a 19th place a year ago to finish seventh.
"I was so happy with my race," Sigvaldson said. "It hurt, but you have to keep pushing no matter what it takes. Both years, I've peaked at the right time. I'm just following coach Spielman's rules. He is a good coach."
Barnes was the next Bulldog to finish, as she placed 11th. Next was a trio of Bulldogs. They were junior Heather Karlin (16), sophomore Carol Whaley (17) and Hill (18). All earned individual state medals.
"Julie made a huge surge," Spielman said. "Her goal the whole time was to get a state medal and she knew she was close. Carol made a huge improvement from a year ago. Then Heather was able to medal, too. She was in the 20s last year. It's a great accomplishment to be a state medalist."
Hill was thrilled to earn her first-ever state medal.
"My main goal was to medal at state, because I had never done that before," she said. "I'm really glad that I did. All of the work in the summer and in the season paid off. I was so happy. It was a great race to end on."
Karlin was happy, too, also for the entire team.
"I was very happy with my race," she said. "My goal coming into the race was to finish in the top 15. I was happy that six of us medaled."
Several of the Bulldogs cried before and after the race. Some tears came from nerves and others were happy tears.
"I ended up crying again," Sigvaldson said. "It's just nerves, but they go away. I cried after the race, too, because both of my sisters were here. I was so happy."
Durr was surprised by her older sister and former BHS cross country runner, Calleigh Durr, after the race Saturday. The older Durr watched her sister run, but did so incognito to avoid making her sister too emotional.
"I was so excited to see her," Durr said of her older sister Calleigh. "I was upset before the race, because she hadn't seen me run and I wanted her to see a race of mine. After the race, I didn't know what to do, so I cried."
While sisters may have helped motivate some of the Bulldogs, Spielman said the seniors deserve much of the credit for the team's success.
"Those seniors have done a great job of being leaders for the team," he said. "That started clear back to the summer. They're the reason we have this streak going. They know what it takes, they're pushing everyone and they're doing things the right way."
BHS results
4. Sienna Durr, 15:53.92
7. Elizabeth Sigvaldson, 16:04.05
11. Kaitlyn Barnes, 16:09.3
16. Heather Karlin, 16:21.52
17. Carol Whaley, 16:21.88
18. Julie Hill, 16:22.44
29. Connor Twombly, 16:47.4