Neighbors: Mary Ann Brungardt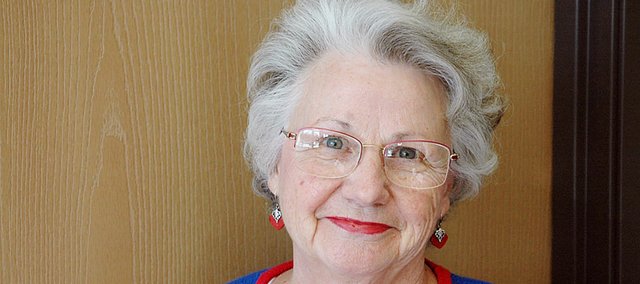 Name: Mary Ann Brungardt
Occupation: Receptionist
Family: Husband, six children, eight grandchildren
Place of birth: Salina
Q. How long have you lived in Baldwin City and what brought you here?
A. We've lived here 14 years. The kids had all flown the nest. It was time to downsize and we like small-town living, so we chose Baldwin City.
Q. What's the biggest risk you've ever taken?
A. I'm a pretty cautious person in general, so I don't think I've taken too many big risks.
Q. What's the best piece of advice you've ever been given?
A. Always keep an open mind, but never so open that your brain escapes.
Q. What two things would you want people to know about you?
A. That I love to share a good laugh and that I'm a half-way decent artist.
Q. What did you want to be when you grew up?
A. A stand-up comedian, but I guess I'm just not that funny.
Q. What's the best way for you to get away from it all?
A. Go to my studio and paint a picture. After all, the time you spend painting does not count off your life.
Q. What's your ideal vacation spot?
A. A beach, any beach.
Favorite things
Song: Gershwin's Rhapsody in Blue and Unchained Melody
Movie: Gone With the Wind
Color: The entire rainbow
Food: A Brookville fried chicken dinner