H1N1

flu clinic set for Saturday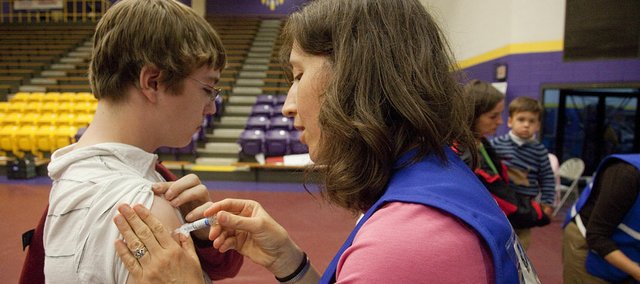 It's a go for the H1N1 flu clinic Saturday at Baldwin High School, but those eligible for the shot don't all need to show up at 10 a.m. when the doors will open.
"They think they have plenty of vaccine," said Carrie Enick, Baldwin School District nurse. "Everyone doesn't need to be there at 10."
The Lawrence-Douglas County Health Department is putting on the clinic from 10 a.m. to 2 p.m., with the aid of local volunteers.
Those who are eligible for vaccination are: 6 months to 18 years old; caregivers of children 6 months of age; those who are pregnant; and health care or emergency service workers with direct patient contact.
Although the list of priority people for vaccination has shrunk because of the availability of vaccine, everyone will eventually be able to get a shot, said Enick.
"Be patient," she said. "Everyone will be able to get vaccinated eventually. They are just doing priority groups now."
She also suggested that those eligible for the shots should go online to the health department's Web site at www.ldchealth.org and obtain the form necessary for the shot. Those who have the form filled out upon arrival will be able to get through the process quicker.
Additional information regarding H1N1 and when and where more clinics will be held can also be found on the Web site.