Bulldogs fall to Stags in season finale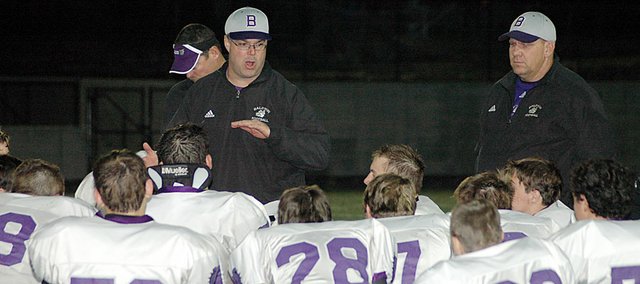 Roeland Park — For the second straight season the Baldwin High School football team played its bi-district playoff game here.
This year's showdown between the Bulldogs (2-8) and Bishop Miege Stags (8-2) was one sided — not in favor of BHS. The Stags avenged a 33-18 loss from 2008 with a 62-0 rout of the Bulldogs Tuesday night.
"In my opinion, that was the best or second best team we've played all year," coach Mike Berg said of the Stags. "I put them up in the same category as Gardner. They are a very, very physical team. You can see the guys from last year have gotten bigger and stronger.
"It was a revenge game for them and they wanted to beat us after we beat them last year," he said. "I think they had this marked on their calendar that if Baldwin came back up here, they were going to take care of us and they did."
While the Stags returned many of the players from last year's game, the Bulldogs lost 13 seniors from a year ago. Baldwin did qualify for the playoffs again by defeating Santa Fe Trail and Perry-Lecompton before losing to rival Eudora.
Tuesday's loss ended a disappointing season for Baldwin, in which it was shut out four times.
"It was really tough to end the season like that," junior Ryan Rogers said. "It's tough to go out that way. We expected a lot more than that, but it wasn't our night."
Bishop Miege took control of the game early and never looked back. Baldwin lost one yard on its first offensive possession before punting to the Stags' dangerous return man, Justin McCay. He took the punt 52 yards for an early touchdown.
Rogers rushed for 13 yards on the next play for BHS. Then junior Josh Hoffman fumbled and the Stags recovered on the Baldwin 25-yard line. One play later, McCay outjumped a BHS defender for a touchdown pass. In just 2:16, the Stags led 13-0.
Baldwin started to move the ball once again, but was forced to punt. The BHS punt was blocked. Bishop Miege took over at the BHS 30-yard line. In two plays, the Stags scored again with a 20-yard run.
After another BHS punt and Bishop Miege rushing touchdown, things got worse for Baldwin. A pass from Rogers was intercepted and returned 30 yards for a score. BHS trailed 34-0 at the end of the first quarter.
"They've got it all," Berg said. "They've got a great quarterback, a good running back and a huge offensive line. They have enough talent that they will make some noise in 4A this year."
The Stags threatened to increase their 48-0 lead after halftime, but BHS sophomore Asher Hannon intercepted a Stags' pass and returned it 35 yards to the BHS 40-yard line. On a fourth-and-three, Hoffman busted loose on a 47-yard run down to the Stags' 6-yard line.
However, a bad snap on the next play pushed the Bulldogs back 14 yards. They tried a 37-yard field goal later in the drive but it missed short. They wouldn't get another chance to score during the remainder of the game.
"We were trying to control the clock and the time of possession," Berg said. "It was tough, because they covered every one of our linemen and they play a defense with a lot of guys on the line of scrimmage. So if you miss one guy, he will be in the backfield. We missed some, but the times we didn't, we got some good yards. The kids executed as well as they could have tonight."
Rogers rushed for 112 yards on 35 carries Tuesday night. He also played quarterback for the Bulldogs, because of an injury to junior Will Von Bargen.
"I had three days of practice at quarterback and then tried to come out here and throw the ball around here tonight. I think next year I might stay at quarterback. It was definitely a change of pace, but it was fun having me and Josh in the backfield."
Von Bargen wasn't the only Bulldog missing Tuesday. Several other players were out of action and a few even played through their injuries in the final contest of the season.
"I'm so proud of this team. We had kids with injuries hobbling around, but they never quit. That's the thing I love about Baldwin kids is that they never quit. They play hard and they have a lot of pride."