Building their own dynasty
Giving up sweets proves successful again for
BHS

girls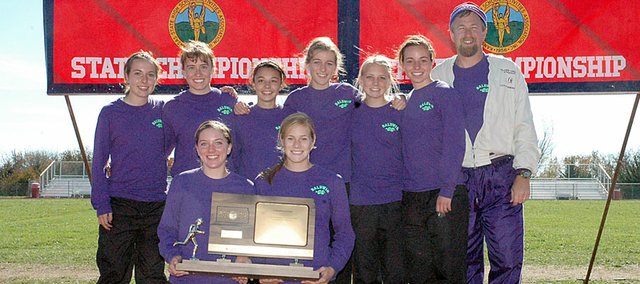 Photo Gallery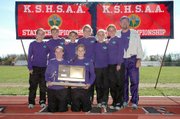 BHS state cross country
Baldwin High School's cross country teams competed at the Class 4A state cross country meet in Wamego. The girls' team won its third straight championship, while the boys' team finished fourth.
As one dynasty was ending, another was just getting started at Baldwin High School.
After years of watching their male counterparts win state championships, the BHS girls' cross country started their own dynasty. The BHS boys won five (four in a row) Class 4A state championships before the girls' team claimed its first.
Since the 2001 season, the boys have won four consecutive titles, placed runner-up once and finished third twice. The girls have won six of the last eight titles, including their third straight Saturday. The girls' team placed second in 2004 and 2006.
"It's kind of weird how things kind of work," coach Mike Spielman said. "They've got it started and it's kind of snowballing now."
Each year the senior girls step up and take charge of the team. After placing second in 2006, Calleigh Durr and Corinna Papps made a vow to never lose again. The pair of 2009 BHS graduates did exactly that as they won state titles during their junior and senior campaigns.
This year's seniors, Connor Twombly and Julie Hill, wanted to keep the winning streak alive.
"I'm glad that we kept it going," Hill said. "We didn't let anybody down by not winning again. It was nice to keep the streak going."
One downside to being the best is everyone else is aiming to take you down. In the Bulldogs' case, they race their rival at six of nine meets. De Soto has finished second to the Bulldogs during the past three years.
"My sophomore year, I felt like there was a lot of pressure, because we were trying to get the title back," Twombly said. "My junior year, we didn't have Heather, so there was a lot of pressure with that. Then this year, there was some pressure being a senior, but I knew we had a lot of underclassmen support."
The Bulldogs' coach said his girls' squad has handled the pressure of being the best well each fall. Despite knowing the target is on their back, they continue to run well and do the necessary requirements to win.
"It's weird how the ebbs and flows go, but they've worked hard all year," Spielman said. "They knew they were going to have to work hard, because people would be shooting for them. I know that when they're done, part of the reason they are so happy, is not just that they won, but they dealt with all of the pressures all season long and achieved their goal.
"There is a lot of pressure to keep that streak alive," he said. "They feel that the whole year and it may not be as much throughout the year, because it all comes down to this one meet. That's what makes it so hard to be a state champ. You may be the best runner or team, but you've got to do it that day and at that time."
Close-knit squad
One advantage the BHS girls' team might have had over the other 4A schools is it might have been the closest team — on and off the cross country course. The evidence is there to prove it was the closest on the course.
After every race, Spielman talks to his teams about the split between the first through fifth runners. That goal is usually 45-60 seconds in most years, but it might be more if there is a dominant front-runner, such as 2008 graduate Heather Garcia.
This year's squad was known for its great splits. At state, the split from first to sixth was 29 seconds, which was its lowest of the season. It was even under a minute from first to seventh on Saturday.
"It sure made it nice for the coach," Spielman said. "All seven of them were so close, I could cheer and get to the next spot. They would all pass me in about 20 seconds."
This year's squad was also able to have small splits even though the line-up was always changing. The primary consistency amongst the team was its front-runner, freshman Sienna Durr. She led the team at eight meets, but when she had a bad race at the regional meet, the other girls stepped up and filled the void.
"It was nice to have that leeway," Hill said. "You could be having a bad day, but know that five other girls weren't. It was good to know that your team was there to push you through the race if you were having a bad day."
Yet, it's the closeness away from the sport that brings this team together. While cross country remains primarily an individual sport, most BHS runners view the team as part of their family.
"That might be what helped us the most this year," Hill said. "There was no tension. We're all friends and we all hang out together outside of cross country.
"We did lots of things together," she said. "Outside of practice, we had team dinners or sleepovers. Away from cross country, we hang out together. We are all good friends and it was nice to have that. We had great team unity."
Snacking sacrifices
At the end of the 2007 season, the BHS girls' team gave up sugar and sweets for the final two meets. Whether it was the lack of unhealthy food or not, the Bulldogs reclaimed their spot at the top of 4A cross country.
Last year, the girls decided to extend that healthier diet to the entire season. Once again a state championship was won. This year — exactly the same.
Last year, the girls decided to extend that healthier diet to the entire season. Once again a state championship was won. This year — exactly the same.
"I hadn't had a cookie since Aug. 17," Hill said. "It wasn't as hard this year as it was last year. I am a chocolate girl and I eat chocolate every day. It was really hard, especially on my birthday. I didn't have cake that day, so my mom made granola bars. I had candles on my granola bars. But I guess all of those cookies I didn't eat paid off."
Twombly also said it wasn't as hard this fall.
"It wasn't as hard for me this year, because I had done it before," she said. "I definitely think it makes you a lot healthier. None of us got sick at all. It helps our dedication to keep winning."
Neither Spielman nor the girls know the exact effects of their sugarless diet, but they believe it helps in a couple of ways. First, the girls' team has stayed healthy during the past two seasons. Second, the dedication of giving up sugar and carbonation is worth the pay off in the end.
"I think it does a little bit physically, because the sugars hurt your immune system," Spielman said. "That was one nice thing about the girls' team — they never got sick all year. They stayed healthy all season. I think it does a ton mentally, because they know they've made the sacrifice."