Hawaii offered no paradise for medic during
WWII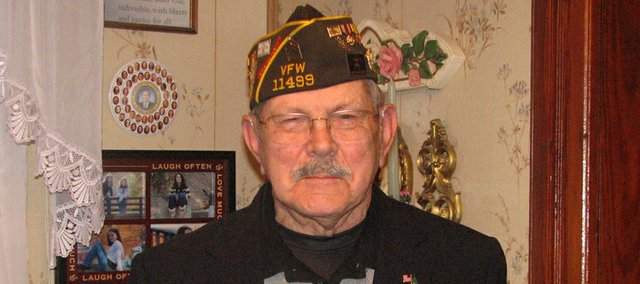 Despite his extraordinary life accomplishments, Wilbur Grisham is a humble man.
Now retired and serving as a third-year trustee in the Basehor Veterans of Foreign Wars, Grisham looks back on his days in World War II and considers them insignificant in comparison to those of other men who fought in that war.
"Mine is not a real bang-out story," Grisham said as he took a seat in the living room of the Basehor home he and his wife bought in 1948.
A red-and-gold decoration on his coat lapel reveals a different, rather bang-out story of four years and 16 days as a medic in the United States Army. The pin was awarded to him and his company for their commitment and heroism caring for wounded World War II soldiers in Hawaii.
A humble man today, Grisham came from humble means. He graduated from Basehor High School in May 1941, and with no further farming to do and seeing the draft looming in the distance, he decided to enlist that summer in the Army.
"It was a very quick process," Grisham said of his induction into the military. "I was walking through the clothing line on the first day. The next day I was handing out the clothes, and on the third day, I was sent to administration because I had typing skills."
Grisham was transferred to Illinois, where he was trained to be a company aid man, a first respondent for 250 men. His training was completed before the United States became involved in World War II, so he was sent to work in a 250-bed mobile Army station hospital near Galveston, Texas, which he said was similar to that on the popular 1970s television show "M*ASH" It was at this station Grisham heard of the Dec. 7 Japanese attacks on Pearl Harbor.
"I thought to myself, 'What's going to happen to me now?'" Grisham said of his reaction to the news. "I had no idea where I would end up."
In February 1942, Grisham was on a ship bound for the Philippines. Word came of a raid on the ship ahead, and Grisham's ship turned around, pulling in at the Hawaiian Islands.
The Hawaii hospital was increased from 250 beds to 750, which made it difficult for other bases to accommodate. Grisham was spared three more transfers overseas because of the size of the unit, and it was these acts of fate Grisham credited with saving his life.
During his time in Hawaii, Grisham tended to injured comrades, three of whom he recognized as being from his hometown. He was in charge of admitting and discharging each patient, a task he said was both rewarding and agonizing. The sight of some of the soldiers coming gave him nightmares, and the sight of them leaving made him ache for home.
"It was very upsetting to put those young men on those planes, knowing they'd been there six months and were going home," he said. "I wondered, 'When do I get to go home? Is this ever going to end for me?' And you talk about flashbacks. I wake up in the middle of the night, and (my wife) will find me working on the computer because I can't get back to sleep."
His homecoming finally came in May 1945, and one month later, he married his high school love, Betty, with whom he'd corresponded during the war.
Life at home was not as easy and happy as Grisham envisioned when he was putting all those men on airplanes in Hawaii.
"It was hard to adjust," he said. "From June to September, I collected unemployment because I couldn't find a job. Rationing was still going on. It was a different place."
He got his break when he passed an exam to be a postal carrier in Kansas City, Kan., and another break when he was hired to work for the Veterans Administration in Kansas City, Mo. He chose to work with the VA, living in a two-room apartment in the upstairs of a Bonner Springs family's house.
After parting with the VA, Grisham spent 16 years as a rural postal carrier for the Basehor Post Office followed by 20 years driving a school bus in the Basehor-Linwood School District.
Today Grisham says he sees a completely different country than the one he lived in during World War II. Essential values like patriotism seem to have disappeared, he said.
"Patriotism means everything to me," he said. "Supporting our troops, supporting our country, that's everything to me. I can't understand these people who protest the government today. My generation was, when war was declared, everyone came together."
Grisham shows his patriotism by staying active in the VFW and helping military personnel in Iraq and Afghanistan however he can. He sees a great need for Americans to ban together and work toward common goals of preserving the nation, bringing those men and women home, and safeguarding the memories of those who came before them.
"This country will have problems in the future, I'm sure of it, and I don't know how it will respond to future strife," he said. "So many of my buddies are gone now, and all of us World War II vets are disappearing. I find myself wondering what happened to all those kids I saw ship out before I was transferred, where they went and if they're alive. They fought for something. I didn't do much, but they fought for something real, and we have to protect it."