Baldwin City,
RWD

No. 4 eye cheaper options for water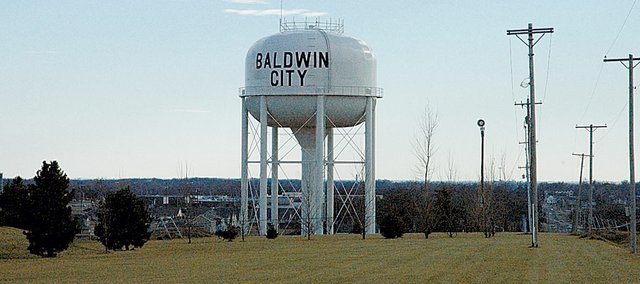 For decades there's been a big business in Lawrence City Hall that stretches well beyond the borders of the city limits.
It is the water business.
The city of Lawrence has long been the largest provider of treated water in the Douglas County area. Water that gets processed at one of the city's two treatment plants flows to a host of Douglas County rural water districts, and also to the cities of Baldwin City, Wellsville and Edgerton.
But now, the city's perch atop the water wheel may be a little more precarious. The reason: "They're beginning to price themselves out of the market," said Baldwin City Mayor Ken Wagner.
Officials with Baldwin City and Douglas County Rural Water District No. 4 both confirmed that they have begun having serious discussions with a group that hopes to start a new wholesale water district that would use the water plant and water rights associated with the former Sunflower Army Ammunition Plant near De Soto.
The impact to Lawrence residents could be significant because the large wholesale water users are helping the city pay for an already-completed $14 million expansion of the city's Clinton Water Treatment Plant. Without the large water users, city residents alone would pay for the plant upgrade.
"I don't want to lose those customers," Lawrence Mayor Rob Chestnut said. "We need to look at whether we can sharpen our pencils a little bit. If those communities have cheaper options, I suspect they will go to them."
Double-digit increases
Leaders with Baldwin City and Rural Water District No. 4 — which covers an area north of Baldwin City — said the city's pencil hasn't been too sharp lately.
The wholesale water rates that the city charges to the two groups increased by 16 percent in 2009 and will increase by nearly 18 percent in 2010. The wholesale rates for the past two years have been increasing at a rate that is more than double the normal increases that Lawrence residents have experienced for their water bills.
"The increases are just too large," Wagner said.
But Lawrence City Manager David Corliss said he thinks the rates are reasonable given the quality of service the communities receive and the amount of expense that is involved in operating a water treatment plant.
"One of the things water districts will have to look at is the significant costs of operating a water treatment plant," Corliss said. "It is a complicated, sophisticated and expensive business."
Corliss said the city uses a formula to establish its rates that takes into account the cost of treatment chemicals, personnel, energy and maintenance costs. The city also expects to receive a certain rate of return — or in the business world, a profit — on the sale of water. Corliss said in past years the city has adjusted its expectations for a rate of return upward. He estimated the city now has an expectation of an 8 percent to a 10 percent rate of return on its wholesale water sales.
The increased expectations come at a time when Lawrence water rates have been under other pressures. Shortly after the city began its expansion of the Clinton Water Treatment Plant, the rate of housing growth began to slow significantly as the national housing bubble began to deflate. The amount of water residents used also began to slow as several wet summers led to less lawn watering. In 2010, the water rates Lawrence charges its residents is expected to increase by about 8 percent to 10 percent.
Earlier this year, Chestnut told staff members he had concerns that the rates Lawrence charges its residents would soon become uncompetitive with surrounding communities. This week, he said the city also needs to spend time reviewing its wholesale rates.
"Wholesale water users have other options, so we have to be competitive," Chestnut said. "I don't think that has been a primary focus here up until recently."
Large users
In terms of total water, losing the Baldwin City business would be the biggest blow. Based on 2008 totals, Baldwin City is the second largest water customer in Lawrence's system. Baldwin City used 224.1 million gallons of water, trailing only Kansas University in terms of usage. Baldwin City's total is high, in part, because it turns around and sells some of the water to Wellsville and Edgerton.
Rural Water District No. 4 was the sixth-largest water user in 2008, using 54 million gallons. Douglas County Rural Water District No. 5 was the fourth-largest water user. That district has been exploring creating a new wholesale water district with Douglas County Rural Water District No. 2 and Osage County Rural Water District No. 5. They recently have begun drilling test wells in the Kansas River valley between Eudora and Lawrence. RWD No. 5 did sign a new water contract with Lawrence earlier this year, but the contract gives the district the ability to get much of its water from another provider.
Corliss said the city is willing to have discussions with its wholesale water users about how the city's wholesale rates are structured. But he also said it is too early to assume that a new wholesale water district will be formed at the former Sunflower plant.
"This has been talked about off-and-on for a long time," Corliss said of a major water provider forming at Sunflower.
Competition's feasibility
But Scott Schultz, the administrator for RWD No. 4, believes the project is more advanced than in the past. A draft feasibility study has been completed by De Soto, Gardner and Johnson County Water Districts Nos. 6 and 7. A final study is expected to be released this month.
The draft study, Schultz said, projected the district could provide water to RWD No. 4 at a rate of $3.13 per thousand gallons, or about 70 cents cheaper than what Lawrence will charge the district in 2010.
Schultz also is optimistic that a change to a Sunflower plant would not take much new infrastructure on the water district's part because one of the main lines proposed to be used by the Sunflower district already runs near a RWD No. 4 line.
"The engineering company that put together the feasibility study has a good reputation," Schultz said. "I take comfort in the fact that they are projecting it as a reasonable option."
Schultz and Wagner both said they thought decisions would start being made on whether to move ahead with a new wholesale water district in the next six months to a year. But neither group likely would stop buying Lawrence water in the near term. Both groups have water contracts with Lawrence that run until about 2015, but they said now is the time to begin planning for any change.
Schultz said he believes his board will take a serious look at change.
"It will be a business decision that just comes down to the cost of water," he said. "If the price escalation from Lawrence exceeds the price we can get elsewhere, the board will have no choice but be serious about it."