Wellsville teen in good condition following car-pedestrian accident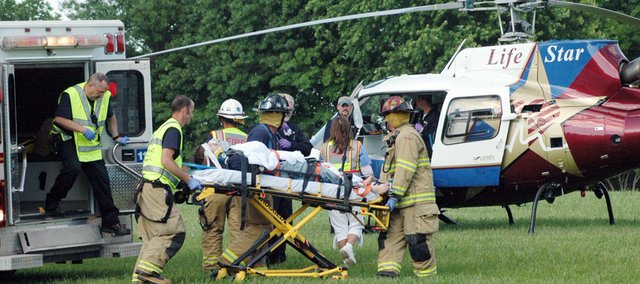 William L. Harris, 17, Wellsville, remains in Kansas University Hospital today where he was taken by helicopter ambulance after being hit by a car Thursday evening. Police Chief Mike McKenna said Harris is in good condition.
"He's doing fine," said McKenna. "He's going to be in the hospital a few days. He has possible broken ribs and a possible tear to his spleen. More tests will be done today."
The accident happened at 4:55 p.m. at the intersection of U.S. Highway 56 and First Street when Harris tried to run across the highway in heavy traffic, said McKenna. He beat a westbound vehicle, but was clipped by an eastbound vehicle driven by Robert Bigsby, 83, Lawrence.
"The driver said the boy just ran out in front of him and he didn't have time to avoid him," he said. "Independent witnesses confirm that."
It was the second accident within a week in Baldwin City where a helicopter ambulance was summoned. Last Thursday, 7-year-old Danielle Bennett didn't stop at a stop sign while riding her bike in FireTree Estates and was hit by a pickup.
She was flown to Children's Mercy Hospital, but was released Saturday and is recuperating from a fractured collarbone, two fractured ribs and other lesser injuries.