Wright brothers aim to make history Saturday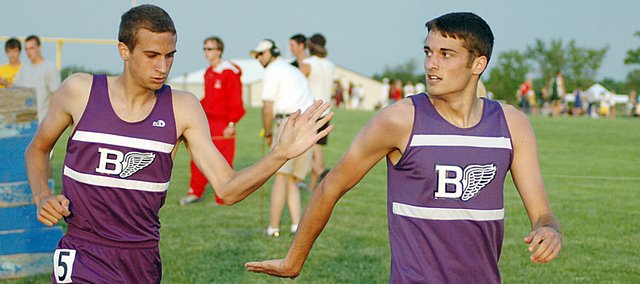 It was almost as if Connor Wright knew his brother was behind him.
Connor slightly turned his head and reached his arm back, waiting for his younger brother's hand.
A slap followed. Then two smiles broke out. The task was complete. The Wright brothers were headed to state.
"It was a big day," Connor said. "I'm a little tired. We will drop our times next week, because we will be running fresh."
Senior Connor and freshman Brian became the first siblings to qualify for the state track meet in the same since coach Mike Spielman took over the program 19 years ago.
They finished second and third in the 800-meter run Friday at the Class 4A regional. Connor sat in second for the entire race, while Brian moved up from eighth on the last lap. In the end, both are moving on to Wichita.
"I can't think of any," Spielman said. "We've had a brother and sister, but not brothers qualify for state track together. I don't know if there were two brothers that accomplished this goal before I was here, but in the 19 years I've been here, it's never happened."
"It's neat that they are both distance runners and both qualify in the 800," he said. "I don't think it happens very often at state, in any event. I know this is special for the Wright family."
The chances of the two siblings talking trash on the other from when they finished Friday until Saturday's race are slim, according to Brian. Connor, on the other hand, jokingly said he would.
"I am going to talk a little trash on him this week," Connor said.
Spielman said they never show signs of being competitive with each other, even in practice.
"There's not too much of a rivalry at all," he said. "They are pretty good about it. They both kind of make each other better."
While the Wright brothers competed on the same cross country team in the fall and on a relay team this spring, they've only run in the same individual track race a couple of times this season. Each time has been in the 800, with Connor beating his younger brother.
"He's one up on me," Brian said. "He's fast, so I'm glad he's my teammate and brother. Hopefully at state, he can pull out the victory."
Brian also admitted the siblings have comparable running forms.
"We have really similar running styles," he said. "I'm like a mini protégé of him."
When the Bulldogs take the track Saturday afternoon, all bets are off as far as friendliness. Neither said they would do anything rotten, but they will be taking the race seriously.
"Once I get out there, it's just me, the track and people trying to pass me," Connor said. "I'm not too worried about anything else around me."
Brian said he will be quietly rooting for his brother to bring home gold in the two-lap race.
"I'll be glad if he wins, because he's going out with a bang and I'm just coming in," he said. "I hope I can help our team out by scoring some points. As long as we can help our team, that's all that matters."
Their coach agreed.
"It would be a really neat deal if they could get up on that awards stand together," Spielman said. "That would be special."
The Wrights will only race head-to-head in the 800, but they will team up on the 3,200-meter relay. They will be joined by sophomores Carson Barnes and Tony Weiss. Baldwin enters with one of the top times and the Wrights will decide the beginning and end of the race.
"He leads off and then I finish it," Connor said. "It's Wrights on both ends of the relay."
Although state is the final meet of the season, the Wrights might be planning an exhibition race next week to settle an unresolved issue.
"There is an inner-rivalry I guess," Brian said. "I know he can beat me in the 800, but in the mile, I don't know."
Connor never ran the mile this season, but won't back down from a challenge from his brother.
"I've never run the mile, so I don't think he has much evidence for that," he said. "Maybe we'll run a time trial the week after state so I can show him up."