Thomas the Tank Engine to roll back into town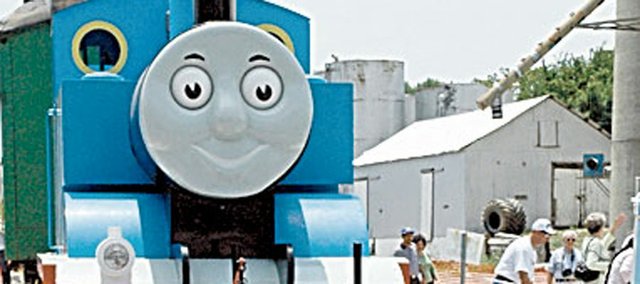 Thomas the Tank Engine will be rolling into town, beginning Friday, for the next two weekends.
The Midland Depot will be busy with hundreds of families from all over the country during the annual two-weekend festival. A Day Out With Thomas: 2009 will run Friday through Sunday and June 5-7, beginning at 9:45 a.m. each day.
"It's just a little carnival," said Tom Wheeler, event committee member. "It's aimed at 2-6 year olds.
"I've seen ticket sales from Maine to Orlando to California and Washington," he said. "They buy tickets everywhere. I don't know if they are coming through here on vacation or if they buy them and send to their grandkids."
Advanced sales have increased from a year ago, according to Wheeler. Thousands of tickets are still available for Day Out With Thomas.
As of Friday, there have been 6,300 tickets sold, which is nearly half of the possible tickets sold. Tickets are $18 for ages 2 and up. The tickets for the 25-minute ride with Thomas can still be purchased for both weekends. They can be purchased by calling 866-468-7630 or online at www.ticketweb.com or www.midland-ry.org.
"Advanced ticket sales are a little ahead of last year," Wheeler said. "I'm glad to see that. There was a little deal this year, where if you bought them before May 1, they only cost $14. After May 1, they go up to $18. There was a little incentive to buy them early.
"It is our biggest fundraiser of the year," he said. "This is where we make our money. We use the money to make the depot better. We don't put the money in our pockets and party with it."
The on-site entertainment includes pictures with Sir Topham Hatt, storytelling, magic shows, toy trains, temporary tattoos, straw maze, inflatable slide, inflatable bouncer, climbing in a fire engine, a petting zoo, LEGO blocks and new merchandise designed more toward the event.
There are also several concession stands for food and drinks. The food items vary from carnival snacks to hamburgers and hot dogs. All concession stands are located on site as well.
"Everything is right on schedule," Wheeler said. "We're excited and ready for Thomas to roll into town."