Relay anchors
BHS

girls' 4A regional crown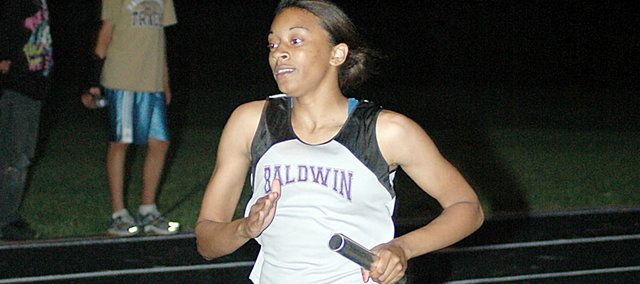 CARBONDALE — Baldwin High School's girls' track and field team ended the Class 4A regional meet here with another gold-medal relay.
Once again, the Bulldogs won the final race of the night. It's almost become habit for them. Friday's race was the most important of the season to date and the Bulldogs stepped up.
They ran their fastest time of the season when they ran 4:09.10. The Bulldogs beat second place by four seconds. Running on the relay was senior Corinna Papps, junior JaBryanna Wellington, sophomore Lyndsey Lober and freshman Elizabeth Sigvaldson.
"Our 4x400 ran its fastest time of the year to win the final race," coach Ted Zuzzio said. "Whew boy, we are getting our time down there. We ran 4:11 last week and 4:09 this week."
That final gold medal and 10 points helped the Bulldogs open up their team lead by more. They scored 104 points to win the team title. Girard finished second with 62.
"We have some good competitors and they like to compete," Zuzzio said. "They stepped up and won as a team tonight. They wanted to compete at the state level and many of them qualified. I couldn't be prouder and happier for a great bunch of kids."
Besides anchoring the 1,600 relay to victory, Wellington also led the Bulldogs in number of events qualified. She will be heading to the state meet in Wichita in all four of her races.
As an individual, Wellington qualified in the 200- and 400-meter dashes. She finished runner-up in the 400, as she ran 1:01.99. Sigvaldson placed third in the race, running 1:02.15, and will be going to state, too.
Wellington then came back in the 200 and placed fourth in a time of 27.02. All three runners ahead of her were seniors.
"I feel really good," Wellington said. "This is my first time to qualify in an individual race for state. I'm really excited and very tired, but it's worth it."
Her final event of the day was the 400-meter relay. The Bulldogs were narrowly beaten by rival Eudora in the race. The Cardinals ran 50.91 as BHS crossed the line in a time of 50.96 to finish runner-up.
"That was a hard loss, because I wanted that really bad," Lober said. "My split was very slow. It's going to be a great race at state."
The BHS relay members were sophomore Ramie Burkhart, sophomore Myranda Behrens, Lober and Wellington.
"We had a little team pep talk before the race," Wellington said. "We had to make it out in that race. We just needed to talk and be a team before the race started."
Baldwin won both hurdle races Friday. Lober brought home gold in the 100-meter hurdles. She ran 15.57 to win the race.
"This is what I've been working for all season," Lober said. "I'm just really excited to win. Crossing that finish line first was the best feeling I've had all season."
Burkhart was the other winner for the Bulldogs. She won the 300-meter hurdles in a time of 47.73. Behrens also qualified in the race as she placed fourth, running 49.15.
Baldwin will also be sending competitors in the three distance races, discus and the 3,200-meter relay. Sophomore Allison Howard threw 111-feet-6 to place third in the discus. She will be going to state for the second time in the event.
"I love throwing at Wichita," Howard said. "It's my favorite place. I threw my second-best throw of the year at KT Woodman. I didn't throw well at regionals last year. I am definitely happy to get third. I just hope I can throw well at state like I did last year."
Sophomore Heather Karlin will represent BHS in the 1,600- and 3,200-meter runs. Karlin finished runner-up in the 3,200 as she ran 12:33.65. In the 1,600, she was edged out by freshman Abi Hartzell for second place. Hartzell ran 5:46.07, while Karlin's time was 5:46.4.
In a rematch from the Frontier League meet, the Bulldogs were beaten in the 3,200 relay by De Soto. The Wildcats ran 10:06.84, while BHS placed second in a time of 10:10.54.
"We definitely did not run our best at all," junior Connor Twombly said. "The weather wasn't as great and we just didn't run that well."
The other Bulldogs on the relay team were senior Calleigh Durr, senior Corinna Papps and freshman Carol Whaley. The Bulldogs and Wildcats have battled several times this season. They've also butted heads in cross country, so this weekend's state race could be another classic race.
"We know their names and they know all of our names," Twombly said. "It's kind of fun to have a rivalry like that so close."
Twombly was Baldwin's other state qualifier. She placed fourth in the 800-meter run. She ran 2:27.09 in the race.
Baldwin will compete in the state meet on Friday and Saturday at Cessna Stadium in Wichita. A schedule of events can be found online at www.kshsaa.org/TRACK/tfstate.html.