City-wide events coming soon to Baldwin City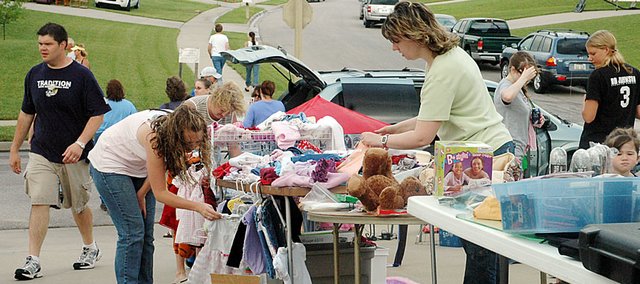 Friends to sponsor
City-wide sales
Friends of the Baldwin City Public Library will sponsor city-wide garage sales June 6 beginning at 8 a.m.
Directories listing garage sale sites and map will be available to the general public at 8 a.m. June 6 at the library.
City-Wide Cleanup
is set for June 13
The annual City-Wide Cleanup is scheduled for 8 a.m. to 2 p.m. June 13.
During that time, residents can take assorted items to be disposed of to the power plant/wastewater treatment plant at 1100 Orange Street. Accepted items include: limbs of all manageable sizes and yard waste; trash and debris not picked up on a regular schedule; and appliances, plastics, glass and recyclable metals.
Items that won't be accepted are: hazardous waste, commercial waste, contractor dump and tires. However, Baldwin Tires and Service, 109 U.S. Highway 56, will accept tires during the same time for a small fee.
Seniors or disabled people can call the public works office at 594-6907 to obtain assistance with pickup of those items. Other questions can be directed to the same number.