BHS

boys qualify for state in seven events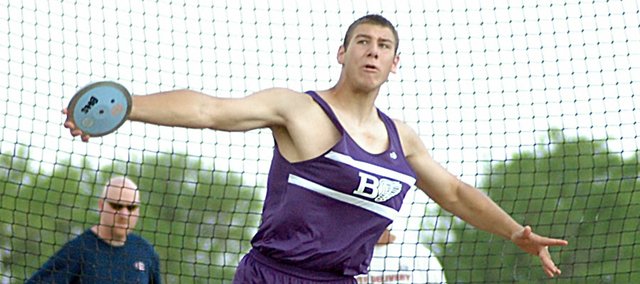 CARBONDALE — Isaac Twombly's final year of track and field will be ending with his inaugural trip to Wichita, thanks to his performance here Friday.
For more than two weeks, the Baldwin High School senior has been finished with his studies. He graduated from BHS on May 16; yet, he has been completing his last year of sports with a bang.
Twombly threw 137-feet-2 in the discus to place second at Class 4A regional Friday. That qualified the BHS senior for his first-ever trip to the state meet in Wichita this weekend.
"I'm very excited," Twombly said. "This is my first time to qualify. I was happy with my throws today. I really like throwing at Wichita, because I got third at KT Woodman. It's been a fast senior year."
Twombly's performance in the discus, along with many other Bulldogs, boosted BHS into third place as a team. The Bulldogs scored 67 points, while Paola won with 123 and De Soto finished runner-up with 77.
"I was really happy with that," coach Mike Spielman said. "We did a great job and got everybody in that we thought we could. It was a really good day and we ended it by running our fastest time of the year in the mile relay."
Baldwin qualified athletes in six other events. Senior Logan Schiller will be the other field event participant for BHS. Schiller cleared 12-6 to tie for second place in the pole vault. This will be Schiller's second trip to the state meet.
"We got a couple out in the field events," Spielman said. "We have guys on the track coming out from the 4x400 and up."
On the track, the Bulldogs qualified runners in the three distance races and the 1,600- and 3,200-meter relays. They were close to sending sprinters in 100- and 400-meter dashes, but the regional field was tough.
"Our regional was loaded in the sprints," Spielman said. "Our 4x100 ran well and Ryan Kennedy ran great, but we were just in a loaded regional, as far as sprints are concerned."
Baldwin's distance runners qualified in all three races, despite limited time in between each event. In the 1,600-meter run, sophomore Tony Weiss and freshman Brian Wright qualified. Weiss finished second and Wright was third.
Weiss later came back in the 3,200-meter run and qualified for the second year. He ran 10:13.05 to finish runner-up in the race.
"I'm happy to qualify in both races," Weiss said. "That was my goal coming in to the meet. I didn't run very well in the two mile, but I'm happy to get in to state. I've been trying to break 10 minutes for two years. Hopefully I can get it next week."
Wright's other individual race was the 800-meter run, where he joined his older brother, senior Connor Wright. The Bulldog brothers placed second and third and will be heading to state as the only brother combination Spielman has coached in his 19 years at BHS.
Both Wrights were happy to qualify in the race together.
"It was a solid day," B. Wright said. "I'm happy to qualify in all three events, because I'll have a lot more time for rest at state. My brother was in good position all race. I had to get around some people to qualify."
His older brother said time didn't matter on Friday. He was only concerned about being in the top four placers.
"That was a tough race," C. Wright said. "It was breezy and I was tired, but I'm going to be tired at state. I have to get used to that. I wasn't running for time tonight, I just wanted to qualify."
The Wright brothers also qualified in the 3,200-meter relay. Trying to conserve energy, the Bulldogs placed fourth in the race. They ran 8:32.37 to qualify.
"We kind of took a chance in the 4x800 and trying to get those guys out in the mile," Spielman said. "It worked out for us and we got ourselves qualified. Now it's time to put it all together and really run fast."
Weiss didn't run on the team at the regional meet, but he will be back at state. Senior Chris Hecker filled in for him on Friday. Sophomore Carson Barnes is the other member of the relay. Weiss is ready to join the relay at the state meet and compete against Osawatomie, which has beaten BHS at the last two meets they've faced each other.
"We are ranked right up there with Osawatomie," Weiss said. "I think we have a shot to win it if we run well. It should be a fun race."
Baldwin's final event at the state meet will be the finale. BHS finished runner-up to Osawatomie in the 1,600-meter relay Friday. BHS ran its best time of the year with a 3:27.05 as the Trojans won by less than one second.
Running on the relay was C. Wright, sophomore Josh Hoffman, freshman Shawn Berndt and senior Ryan Kennedy.
"I know we can get them next week," Kennedy said of the Trojans. "We'll be fresh Friday. That's the only thing I'm running, so I'm hoping for a faster time. It's my senior year, I have to go for it."
"We won the 4x400 last year and hopefully we can do it again this year," he said. "Being the defending champs, helps get my adrenaline going and ready to run at state."