7-year-old hit by truck is home and doing
OK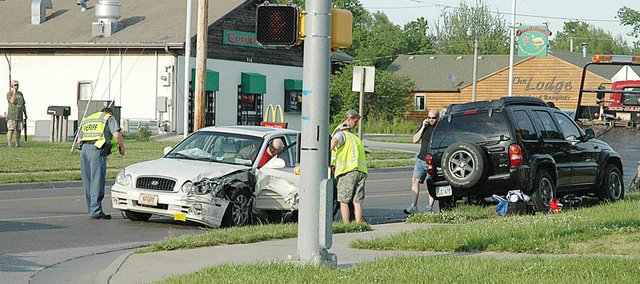 Danielle Bennett, the 7-year-old Baldwin City girl struck by a pickup last Thursday, was released from Children's Mercy Hospital Saturday.
"She's much better," said Bonnie Bennett, her mother. "She had a fractured collarbone, two fractured ribs, assorted bumps and bruises and a lot of road rash.
"She's a very lucky girl," she said, adding it's an experience she doesn't want to go through again. "Absolutely. She's still limping around a little bit, but she'll be OK."
Danielle was taken by helicopter ambulance to the Kansas City, Mo., hospital shortly after the accident about 6 p.m. in FireTree Estates. According to the Kansas Highway Patrol, Bennett was hit by Ralph Ybarra, 61, after she didn't stop at a stop sign at FlameWay and FireTree Way. Troopers worked the accident because Baldwin City Police were tied up with a wreck on Ames Street that had happened minutes earlier.
"That accident at Sixth and Ames happened just before the one in FireTree," said Police Chief Mike McKenna. "It's one of those freakish things. In a town this size, it's very odd to have two accidents at the same time."
Baldwin City police were working the accident roughly in the intersection of Ames and Sixth streets. According to McKenna, that accident occurred when Robert Bias, 60, Baldwin City, was westbound on Ames and preparing to turn into the Kwik Shop. Paul Wilson, 36, rural Baldwin City, was eastbound on Ames when Bias crossed the centerline and the vehicles collided, said McKenna.
Bias was cited for improper driving on the roadway, said McKenna.
Adding to the confusion at the intersection were emergency vehicles rushing to the scene at FireTree, which eventually brought the helicopter ambulance. It landed on the practice fields near Baldwin High School to transport Danielle to the hospital. A fire truck must always be present for such landings and take offs.