Sixth Street expected to be reopened Friday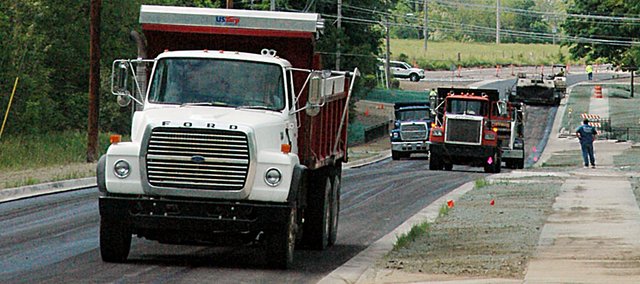 A five-block stretch of Sixth Street in Baldwin City will be reopened to traffic at 7 p.m. Friday, according to Douglas County Public Works.
The road had been closed since April 20 while work crews put the finishing touches on the $1 million project. The project replaced a sewer line, as well as added curbs, gutters and sidewalks. The road was then repaved once and another layer will be applied Friday.
"Seeding should be completed up to about Orange by tonight," said Bill Winegar, director of utilities. "The contractor is cleaning the street as we speak getting ready for asphalt for tomorrow. The surface will require about 800 tons of asphalt. They plan on running two pavers at the same time. As long as there are no mechanical failures, this will be like a walk in the park. Very do-able.
"The asphalt needs to cool before traffic gets on it and the detour signs taken down and a few other odds and ends," he said.
The project was started in August, shut down in December and restarted in April. The last of the work was expected to keep the road closed for 60 days, but it was completed well ahead of that.
As Sixth Street is opened Friday, Orange Street, which has served as the detour around the project, will be closed. The temporary shoe-fly detour on Orange Street will be removed. It's unknown how long that will take.