BHS

girls finish runner-up at league track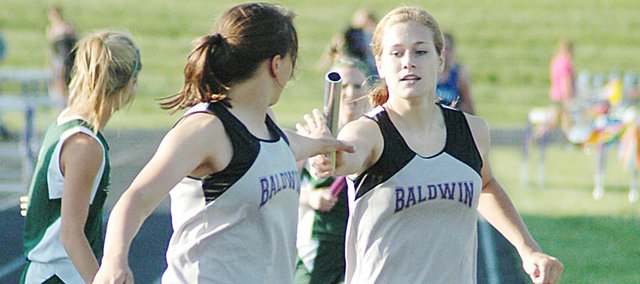 LOUISBURG — Baldwin High School's girls' track and field team began and ended the Frontier League meet with gold medal races here last Thursday.
BHS won two relays and one distance race en route to a runner-up finish at the league meet. BHS scored 126 points as Gardner-Edgerton won with 159 team points.
"When you score 126 points, you're doing a lot of things well," coach Ted Zuzzio said. "We won 28 medals, which was outstanding. We had kids doing multiple events and I thought everyone competed well."
Despite not winning the eight-team meet, senior Calleigh Durr was still thrilled the Bulldogs placed second.
"We won every other meet, so it was disappointing to lose," Durr said. "We knew Gardner is huge, so it wasn't sad to lose to them. We still scored nearly 130 points, which is a lot at league."
Baldwin began the track portion of the meet with a gold-medal relay. Matched up against rival De Soto, the Bulldogs jumped out to an early lead, thanks to junior Connor Twombly.
Durr and freshman Elizabeth Sigvaldson maintained the 50-meter lead. The Wildcats' final runner nearly caught Corinna Papps, but the BHS senior saved her sprint for the home stretch. The Bulldogs won in a time of 10:00.45, seven seconds ahead of De Soto.
"De Soto is our big rival and we expected the race to be much closer than it was," Durr said. "They had actually run faster than us this year. We were a bit surprised. We just went out, ran our best and it worked out for us."
The Bulldogs' 3,200 relay won the Class 4A state title a year ago and returned three of those runners. Zuzzio said they are hoping to do the same this year.
"We are knocking on the door of going under 10 minutes," Zuzzio said. "These girls are wanting to get back to the medal stand at state and it's looking like they could get there."
Before the Bulldogs won the final relay of the night, they won another distance race. Sophomore Heather Karlin edged out Spring Hill's Kelsey Carbajo as she ran 12:34.58 to win the 3,200-meter run.
"It was a photo finish," Zuzzio said. "She got her right at the line, which is nice. It's good for her to win that league championship."
In the final race of the night, the Bulldogs once again won gold. The 1,600-meter relay team held off Gardner as it crossed the finish line in a time of 4:12.69. Running on the team were junior JaBryanna Wellington, junior Lyndsey Lober, freshman Carol Whaley and Papps.
"That is their second fastest time of the season," Zuzzio said. "They did that with two kids doubling right back out of the 200. It's just a great race. It's all-out effort and it's fun to watch."
Baldwin also placed high in the other two distance races and both hurdle events. Behind Karlin in the 3,200 was freshman Abi Hartzell and junior Julie Hill. Hartzell placed third, while Hill took fourth.
Karlin also finished third in the 1,600, with Hartzell right behind her in fourth. Twombly also placed sixth in the race. In the 800-meter run, Twombly, Whaley and Durr finished third, fourth and fifth.
"We were a little disappointed in the open 800, because we let them go 1, 2," Durr said. "I know I didn't run my best race. Carol and Connor stepped up and ran well in the race."
Sophomore Lyndsey Lober finished runner-up in the 100-meter hurdles, while sophomore Ramie Burkhart placed fourth. Burkhart came back and finished third in the 300-meter hurdles. Fellow sophomore Myranda Behrens placed fourth in the 300 hurdles.
The Bulldogs placed three in the top five of the 400-meter dash. Wellington narrowly placed runner-up, while Sigvaldson and Papps finished fourth and fifth.
The Bulldogs will compete at the Class 4A regional Friday at Santa Fe Trail High School. The meet will begin at 3 p.m. with field events and preliminary races starting at 4:30 p.m.
"We've got a bunch of kids that want to get back to the state meet," Zuzzio said. "Some kids want to get there for the first time. The hunger is there and now we just have to perform at that level."