BHS

track teams finish 2nd, 4th at league meet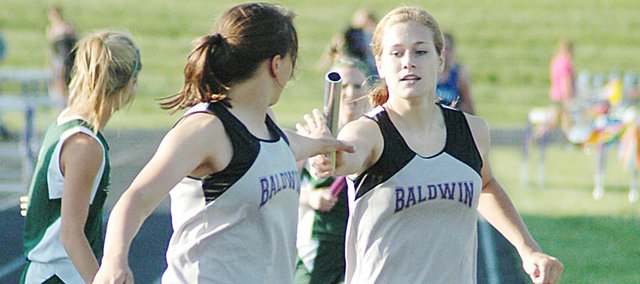 LOUISBURG — Both Baldwin High School track and field teams scored more than 100 points and finished in the top half of the Frontier League standings here Thursday.
On the girls' side, Baldwin finished runner-up to Gardner-Edgerton. BHS scored 126 team points, while GEHS scored 159 to win.
The BHS boys' team finished one point out of third place and 4.5 points out of second place as it scored 100.5. Gardner was third with 101.5 and De Soto placed second with 105. Paola won the boys' meet by scoring 131 points.
Baldwin High won three events on the girls' side and one boys' event. Senior Connor Wright was the lone winner for the BHS boys. He won the 800-meter run in a time of 1:59.45.
Sophomore Heather Karlin was the lone individual winner for the BHS girls. She edged out Spring Hill's Kelsey Carbajo to win the 3,200-meter run in a time of 12:34.58.
The BHS girls also brought home gold in the 1,600- and 3,200-meter relays. The 3,200 relay team beat out rival De Soto as it ran a season-best time of 10:00.45. The relay members were senior Calleigh Durr, senior Corinna Papps, junior Connor Twombly and freshman Elizabeth Sigvaldson.
In the final race of the night, the Bulldogs once again won gold. The 1,600 relay team held off Gardner as it crossed the finish line in a time of 4:12.69. Running on the team were junior JaBryanna Wellington, junior Lyndsey Lober, freshman Carol Whaley and Papps.
Both BHS teams will next compete at the Class 4A regional on May 22 at Santa Fe Trail High School.
There will be stories on both teams in next Thursday's edition of the Signal.