Bagpipes signify conclusion of students' time at Baker University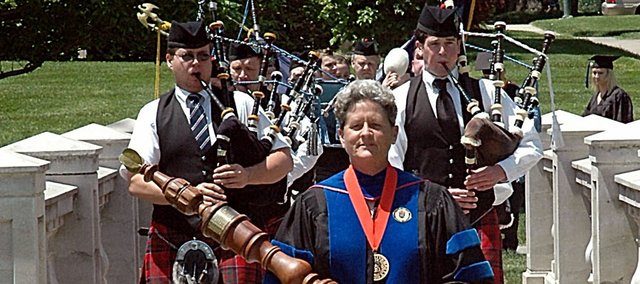 When the traditional sound of the Scottish bagpipes play at Sunday's commencement for Baker University's graduating class, it will be a special sound.
The tradition was started decades ago and has become a mainstay on the Baldwin City campus. When freshman arrive in the fall, there's a single bagpipe player walking around campus on the first day of class.
It's an introduction for what's to come over the next four years and culminates with the full bagpipe band, drums and all, when it comes time to receive the diplomas.
"I think it's going to feel amazing," said Chelsey Forge, who came here four years ago from Oskaloosa and didn't know what was going on that first day of class. "It's an accomplishment, just knowing that this is the end of my Baker experience and will be really emotional for me.
"It will mean a lot that I've come full circle now," said Forge, adding that she's come to appreciate the sound now. "They've grown on me over the years. It was a little strange at first. But it's really neat."
Those bagpipes will start playing shortly before the 1 p.m. Sunday graduation ceremony for the undergraduates in the College of Arts and Sciences, School of Education and School of Nursing. Dave Stewart, senior anchor at Metro Sports TV-Kansas City, will deliver the keynote address.
They'll play again before the 4:30 p.m. graduation for the School of Education graduate students. Dale Dennis, deputy commissioner of education, will be the featured speaker.
The sound won't be lost on Timothy Obiefule, Lawrence, who will be receiving his Bachelor of Science degree in computer science. Obiefule was a member of the Baker Symphonic Band and played for graduations before his.
"I do like the bagpipes," said Obiefule. "The coolest part is watching the people stand up as the bagpipes come in."
The ceremonies will be in the George F. Collins Sports and Convention Center on campus. It's that pristine campus, educational opportunities and faculty that drew Forge here.
"I'm from Oskaloosa originally, so I'm from the Lawrence area and thought I'd always go to KU," she said. "My high school counselor suggested that I check Baker out because of how it matched up with me. So, I checked out the campus and teachers and loved it.
"It's probably one of the best decisions I've ever made," said Forge, who will receive her BS in accounting and business and will graduate summa cum laude. "It's been a perfect fit for me."
And that fit might not be over yet for the prestigious McGowan Scholarship winner and a member of the Lawrence Journal-World's all-academic team in 2005. She has a job with a Kansas City accounting firm that starts in November. She'll do an internship before that. She also intends to get her Masters of Business Administration.
"Eventually, I'm going to get my MBA. I'm going to take a two-year break and work," said Forge, adding that it will probably be another degree from Baker. "Why not stick with a good thing?"