Softball ends senior night with walk-off win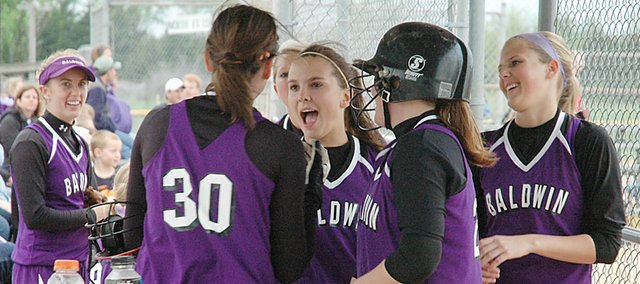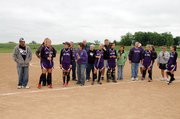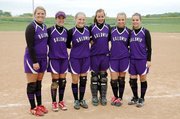 Sarah Johnson capped off a wonderful week of softball with an extra-inning, walk-off run Tuesday night.
Her score lifted the Baldwin High School softball team to a sweep of Gardner-Edgerton. It was the fifth win out of six games for the Bulldogs during a six-day stretch that boosted the Bulldogs' record to 13-5.
It might have been fitting that one of the six BHS seniors, Johnson, scored the winning run on senior night. BHS beat the Trailblazers 2-0 and 9-8 Tuesday.
"We told the rest of the team to win tonight for us," Johnson said. "We wanted to win our last home games. We played well both games, which was a great feeling."
Gardner scored four runs in the sixth inning after recording two outs. That gave Gardner an 8-7 lead heading into the final inning. Baldwin took advantage of an error by the Gardner pitcher in the seventh inning and tied the game 8-8.
After stopping the Trailblazers in the top of the eighth inning, it was time for the bottom of Baldwin's batting lineup to win the game. With two outs, Johnson hit a ground ball up the middle for a single.
"I don't think I had seen the bases all day," Johnson said. "I didn't even know I was coming up to hit next, so ripping that one helped my confidence. It felt good to go score the winning run."
Senior Kelly Baker followed her with a walk, but not before Johnson moved to third base on two passed balls. Senior Haley Finucane came up to the plate ready to make the winning hit, but she never had to.
The first pitch to Finucane wasn't controlled by the Gardner catcher. Johnson sprinted and ran across home plate, winning the extra-inning contest.
"I was so excited to get that last hit, because I wasn't hitting all night," Johnson said. "I got around the bases on three passed balls. That was awesome."
Coach Bob Martin was proud of his players for rallying late in the game and coming up with the plays necessary to win the game.
"That was a good team we played tonight," Martin said. "I thought we played very well in the first game. We were very sharp in that game. In the second game, Gardner hit the ball well against us. I told the girls sometimes you'll have to win games 9-8. I was happy with how we hit the ball and came back a couple of times in that game."
In the first game, BHS won a low-scoring contest, 2-0. Senior Tracie Weege scored in the first inning to give BHS a 1-0 lead. Then senior Alex Zordel hit a solo home run in the fourth inning to record the only other run of the game.
Zordel also cranked a home run in the second game, as did freshman Madeline Brungardt. It was the freshman's first of her BHS career.
"Alex is our all-time home run leader," Martin said. "She hit two big ones for us today. It was also really nice to see Madeline hit one today. She has that kind of power and I think we'll see more of that from her."
On Saturday, the Bulldogs split a doubleheader against Paola at home. They won 2-1 in eight innings, before losing 8-1 in the second game.
In the first game, the Bulldogs loaded the bases in the eighth inning. Zordel proceeded to hit a line drive single that scored Johnson for the win.
"I really wanted to hit, because the time before, they walked me," Zordel said. "I was really pumped to get up there, because they had no choice. They had to pitch to me that time.
"It feels awesome to beat Paola," she said. "They've only lost one game and it's nice to beat a really good team. It helps show that we are a really good team, too. This is the only time I can remember beating them."
Last Thursday, Baldwin swept De Soto. BHS won 7-1 and 6-1. The Bulldogs will host a make-up doubleheader against Hays at 3 p.m. today at Baker University's field.