Eighth grade girls lead
BJHS

at league track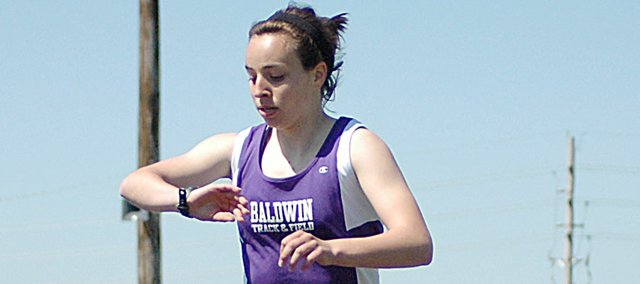 GARDNER — No Baldwin Junior High School track and field records were broken at the Frontier League meet here Saturday.
However, the Bulldogs did set three league meet records as they brought home lots of hardware. BJHS won 10 events and placed in 18 others as all four teams finished in the top five of the eight-team competition.
The eighth grade girls led the Bulldogs by winning the meet for the second straight year. They scored 108 points to beat runner-up Wheatridge by 19 points.
"They won by a bigger margin this year," BJHS girls' coach Angie Spielman said. "They stepped up and defended their championship. It's a difficult thing to do, but they took the challenge and worked really hard to get it done."
All three league meet records broke by BJHS happened in the eighth grade girls' events. Kaitlyn Barnes broke two herself and helped break another on a relay.
Barnes won the 800- and 1,600-meter runs with ease. Her 800 time of 2:24.28 and 1,600 time of 5:34.64 were both new league records.
"She really had a big day," Spielman said of Barnes. "Her 800 was awesome. She competed so well all day, like she had every meet."
At the end of the meet, Barnes joined three teammates to win the 1,600-meter relay and set another league meet record. The team of Monica Howard, Sienna Durr, Elena Watson and Barnes ran 4:26.64, beating second place by 12 seconds.
"Elena stepped up huge for us," Spielman said. "She helped the 4x400 win the last race of the day and break the league record."
Howard was the only other league champion for the eighth grade girls' team. She jumped 5-foot-1 in the high jump to claim victory.
On the seventh grade girls' team, Morgan Lober was the only individual champion. The Bulldogs also won the 800- and 1,600-meter relays en route to finishing runner-up as a team with 106 points, which tied them with Paola.
"Our seventh grade girls did a terrific job," Spielman said. "That was better than we expected. Going into it, our goal was to finish in the top three. To tie for second was beyond what we thought we could do, because we only have 15 girls."
Lober also helped the Bulldogs win the 1,600 relay. The Bulldogs ran 4:40.79 to edge out Paola for the league title. The other team members were Libby Verhaeghe, Jenna Irey and Hannah Hutton.
The 800-relay team also won gold Saturday. BJHS won the race in a time of 2:02.70. Running on the relay were Leyana Watson, Hutton, Irey and Verhaeghe. "Morgan ran awesome," Spielman said. "But Jenna Irey and Libby Verhaeghe ran so well. Our 4x200 also ran great and won easily."
On the boys' side, BJHS finished fourth in seventh grade and fifth in eighth grade.
"On the eighth grade team, we started the year out with 17 kids and ended with 13," BJHS boys' coach Bench Currie said. "We lost a few on both teams for several reasons, like grades or wanting to do other things."
"I think the seventh graders could improve their finish next year if they keep working at it," he said. "They've excelled in everything else, but track and field is so broad with so many events."
BJHS won two events on the boys' side. Eighth grader Tyler Cawley won the 3,200-meter run in a time of 11:33.37. Seventh grader Ethan Hartzell cleared 5-1 in the high jump to earn gold.
"We had an OK meet on the boys' side," Currie said. "We had a couple kids that were winning meets during the year, but had a bad race or false started. Overall, I thought the kids competed to the best of their abilities."
The BJHS teams combined to break nine school records this spring. Check next week's Signal for a story on those records.