Bulldogs finish 1, 2 at Redbud Classic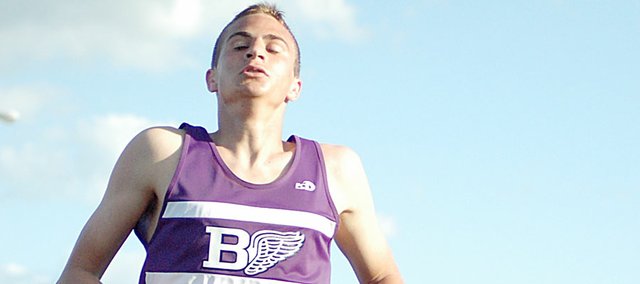 WELLSVILLE — Fast times and solid performances in the field events were the main themes here Friday.
The Baldwin High School track and field teams battled a 19-team field at the annual Redbud Classic. Baldwin left the meet with two top team finishes and three traveling plaques.
Baldwin High's girls' team won the team championship with 114 points. The girls' team won five events. Baldwin's boys' squad placed runner-up as it scored 95 points and won four events.
"We had a wonderful meet," BHS girls' coach Ted Zuzzio said. "What's really amazing is we've won six straight meets now. Quietly, we've won six meets. We've won small meets and 19-team meets. I'm pretty excited about how we are competing. As each week goes, we are running faster and faster. Now we're easing our way into league, regional and state."
On the girls' side, the Bulldogs swept the three traditional relays. BHS didn't enter a team in the 400-meter thrower's relay. However, the Bulldogs did win the 400-, 1,600- and 3,200-meter relays.
Sophomore Myranda Behrens anchored the 400 relay to victory as she edged out Jayhawk-Linn's final runner. BHS ran 51.1 in the win. Other relay members were sophomore Lyndsey Lober, sophomore Ramie Burkhart and junior JaBryanna Wellington.
Baldwin's 3,200 relay began the finals portion of the running events with an easy victory as it ran 10:04.5 and won by 20 seconds. The relay members were senior Calleigh Durr, senior Corinna Papps, junior Connor Twombly and freshman Elizabeth Sigvaldson.
The Bulldogs capped off the meet with a narrow win over Jayhawk-Linn in the 1,600 relay. BHS ran 4:11.9, just 0.2 ahead of second place. Relay members were Lober, Papps, Wellington and Behrens.
"I don't know that we've ever done that in a big meet," Zuzzio said. "We ran quality races in all three relays. They were all season-best times. When you get effort like that, it's gratifying to be a coach."
Wellington also won the 400-meter dash (1:00.7) and placed third in the 200-meter dash (27.6). She earned her name on a traveling plaque for winning the 400. The Redbud gives the plaque to the boys' and girls' winner of the 400 each year.
"Wow, wow," Zuzzio said. "She had a wow-wow night. Honestly, she had a great night."
Baldwin's other victory came in the 300-meter hurdles. Burkhart ran a 47.6 to win the race. Behrens finished third, running 48.2.
On the boys' side, Baldwin brought home gold in the pole vault, the two long distance races and the 1,600 relay. Senior Logan Schiller tied his best vault at 13 feet to win the event.
"We had a really good meet," BHS boys' coach Mike Spielman said. "We had a lot of kids that stepped in there and scored. With 19 teams, it was a great meet with some really good competition. We scored on the track and in the field, too."
Baldwin's pair of young distance stars brought home gold in the two longest races. First, freshman Brian Wright took the lead in the 1,600-meter run and never relinquished it. He ran a personal-best time of 4:31.8 to win as sophomore Tony Weiss finished runner-up in 4:33.4.
Weiss came back in the 3,200-meter run and ran all alone for six of the eight laps. He cruised to victory, running 10:04.2, which nearly ties his best time.
As they've done several times this season, the Bulldogs finished the meet with a gold medal in the last race. They ran a 3:27.9 to narrowly beat Louisburg in the 1,600 relay. The Bulldogs in the race were senior Ryan Kennedy, senior Connor Wright, sophomore Josh Hoffman and freshman Shawn Berndt.
"That's two years in a row, we've got our name on the plaque," Spielman said. "It's neat to win that each year."
Both BHS teams will compete at the Frontier League meet in Louisburg today. It will begin at 3:30 p.m. with field events. The preliminaries will start at 5 p.m. with the finals starting at 6:30 p.m.