BHS

graduation set for Saturday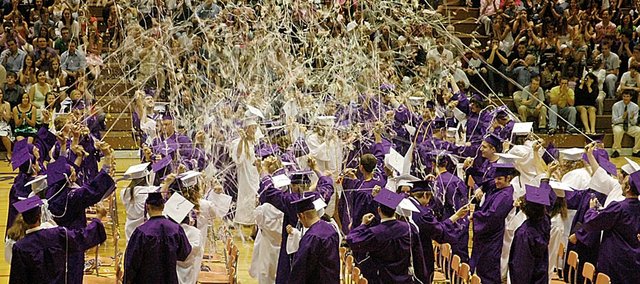 Baldwin High School will be losing one of the largest classes in the school district on Saturday.
Each spring, BHS graduates its senior class with the traditional "pomp and circumstance" ceremony. BHS will graduate 109 students at its commencement, which begins at 11 a.m. Saturday in the Baldwin Junior High School gymnasium.
"They have been a fun class to be around," industrial technology teacher Tom Harman said. "Next year it won't be the same without them."
In recent years, BHS seniors have chosen local icons to speak at the commencement ceremonies. Last year, long-time BHS teacher and coach Merle Venable was the speaker.
On Saturday, John Richards will be giving the keynote address. Richards is the assistant professor of history at Baker University. He is also the scoutmaster for Boy Scout Troop 65.
"It's really flattering," Richards said. "It's a great group of kids. I've known many of them for a long time. I've been asked to speak before, but I turned them down, because my daughter's class wanted me at their graduation."
Richards' daughter, Anna, will be one of the graduating seniors Saturday. He said the ceremony will, of course, mean more to him.
"It's very special for me," Richards said. "That's the primary reason I turned down the other classes."
Some BHS staff members are sad to see the 2009 senior class leave.
"I think that there are a number of good leaders in this class," math teacher Mike Curran said. "We will miss them dearly."
Administrators also share the same feelings about the departing seniors.
BHS correspondent Alyssa Drury contributed to this story.