Baldwin School Board retains
VES

's McCune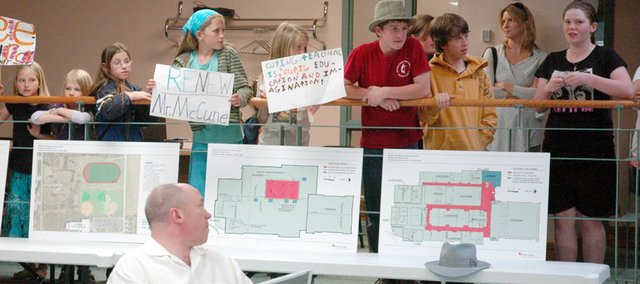 Cheers of joy and happiness echoed through the district office shortly after 11:30 p.m. Monday as one Vinland Elementary School teacher was retained.
Matt McCune, VES third grade teacher, kept the job he's held for three years. His support came out in droves for the two April Baldwin School Board meetings and they were back Monday. A handful of the parents and VES students stayed to hear to final decision.
"We just saved our teacher," said Fadra Andrews-Mitchell, a VES parent, after the school board voted to retain McCune.
While emotions got the best of McCune Monday night, he expressed his happiness on Tuesday.
"It's a great feeling," McCune said. "I was pretty calm last night. That's just how I am. I figured if they didn't want to bring me back, there must be something better out there for me.
"It was amazing to have the support I've had," he said. "It's overwhelming and emotional. You want people to like you and value you, but that kind of support helps keep your chin up and helps you smile. It feels really good."
After a month of speculation, the school board voted 3-4 to non-renew McCune's contract, so the measure failed. Board Members Ruth Barkley, Bill Busby, Scott Lauridsen and Josh Mihesuah voted to keep McCune Monday night.
Two weeks ago, that vote was different. The school board voted 5-2 to approve the notification of non-renewal of McCune's contract at the April 27 meeting. Lauridsen and Mihesuah voted for the non-renewal notification, which was recommended by VES Principal Gus Wegner, that night.
"I figured it would be hard to get more than four votes," McCune said. "The school board president almost has to vote with their administrator. But four votes is the same as seven votes. I do want to thank the school board for letting me come in and explain my situation. A lot of boards might not have done that, but if it wasn't for me explaining my side, I don't know if I would have gotten enough votes."
McCune's supporters once again spoke their mind about their teacher Monday night. Nearly a dozen parents and even more students told the school board how much they cared for McCune.
One of the speakers during the public comment portion of the meeting was McCune's wife, Sarah. Like her husband, she is also a Baldwin High School graduate and long-time local resident.
"Matt left a good teaching job in Lawrence for the opportunity to teach where he grew up," Sarah McCune said. "Have you ever seen the show 'The Dog Whisperer?' Well, Matt's like the kid whisperer. These kids love him.
"For us, this is like a punch to the stomach, that it's come to this point," she said. "We've been here and given our time to this district. I want you to seriously consider what you're doing. This is not about budget cuts."
Another VES parent, Stacy Leslie, spoke at her third consecutive school board meeting. On Monday, she brought a t-shirt with her. The shirt was given to the students last year for success on the state assessment exams.
"I brought this because it's a symbol of what the students experienced and accomplished," Leslie said. "It's not the administration in this district that gets credit for this shirt. No offense, it's not the board members that get credit for this shirt. It's our quality teachers in this district that work with our students that get credit for this shirt. Without quality teachers, this shirt doesn't exist. As a parent, I need to know that our quality teachers are going to stay in this district so we can have more shirts like this."
McCune wasn't the only VES teacher retained Monday night. Four other educators were approved for notification of non-renewal, but were not released. That was done because something in their contracts changed.
One of those employees was Christopher Bulgren (VES and Marion Springs Elementary School music teacher). The other names were not released.
In other news, the school board approved the retirement of Baldwin Junior High School assistant principal Joe Gresnick.