BHS

plays host to Frontier League Art Competition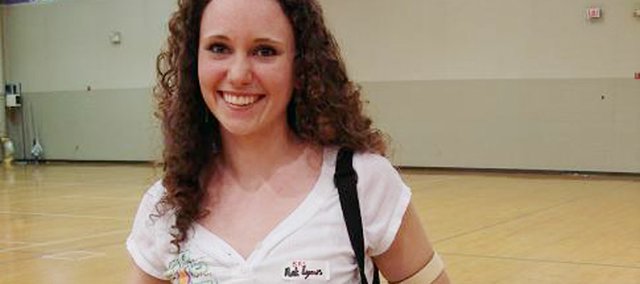 It was an artistic scene Wednesday as Baldwin High School hosted the Frontier League Art Competition, including chalk art displays in the parking lot – including one on a Cadillac.
Eight schools participated. De Soto was first with 152 points, followed by Eudora with 147 and Gardner-Edgerton with 97. Other schools were host BHS, Louisburg, Ottawa, Paola and Spring Hill.
Individually, BHS's Hali Lyons won a blue ribbon for Artistic Excellence with her abstract watercolor painting and Maddy Roger won a red ribbon for Artist Merit for her surreal collage. Both are seniors. BHS art teacher Sheryl Drew, who was in charge of the effort, thought it all went well.
"The day went extremely well, thanks to the cooperation of all who participated," said Drew. "The weather was great, and a huge 'thank you' to everyone involved and to the District Office for funding this event in these tough financial times."
Each school brought 10 students and 25 pieces of artwork to enter. Baker University's Lee Mann, chairman of the art program, and Jennifer Jarnot, an art professor, were the judges.
The students had workshops they could attend during the day. They were: Papermaking by Marsene Feldt, Baldwin Junior High School art teacher; the Art of Floral Arranging by Crystal Harris, Vinland Elementary School secretary; Tye-Dye t-shirts by Joyce Tallman, BHS teacher; Art History waste baskets by Jennifer Katzer, BHS senior; Book Alterations by Brooke Elliott, BHS senior; Cuppa Java clay coffee mugs by Lyons; Sidewalk Chalk competition, which included Pat Slimmer's chalkboard Cadillac to decorate.
There were plenty of sacrifices to make it all work, said Drew.
"(BJHS assistant principal) Joe Gresnik ran to Arrowhead Hardware to get two blenders for Feldt's papermaking workshop that morning and Crystal Harris spent her own money on flowers to 'do it right' and students got to take home their own flower arrangements for Mother's Day," she said.