Neighbors: Phyllis Mapes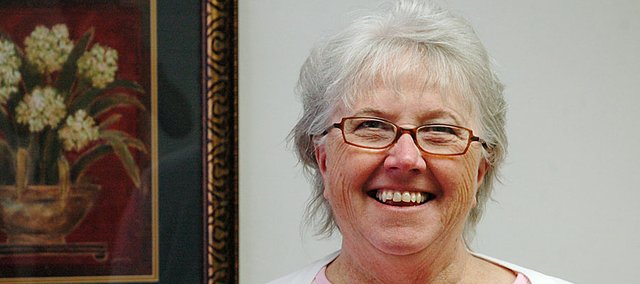 Name: Phyllis F. Mapes
Occupation: Title insurance agent and loan closing.
Family: Husband, Eldon, son, Dr. Evan L. Mapes, daughter Daveda D. Leppke, Bonner Springs.
Place of birth: Prairie View.
Q. How long have you lived in Baldwin City and what brought you here?
A. We moved here January 2001 to open Executive Title Inc.
Q. What's the biggest risk you've ever taken?
A. Leaving Norton and starting over in Baldwin City when I should have been thinking about retirement.
Q. What's the best piece of advice you've ever been given?
A. Treat neighbors and clients so that you can meet them on the street and be able to smile with them.
Q. What two things would you want people to know about you?
A. Honesty has always been important. The 3 Fs: Faith, Family and Freedom we have in the U.S.A.
Q. What did you want to be when you grew up?
A. A farmer's wife.
Q. What's the best way for you to get away from it all?
A. Fishing and having a picnic.
Q. What's your ideal vacation spot?
A. Myrtle Beach in the Carolinas.
Favorite things
Song: "It is Well with My Soul"
Movie: "While You Were Sleeping"
Color: Brown
Food: Strawberries