BESIC

contingent enjoyed Land of Lincoln trip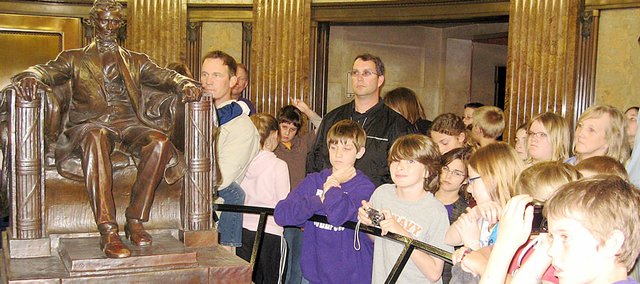 For one day, Baldwin Elementary School Intermediate Center fifth graders learned a lifetime's worth of knowledge about the 16th U.S. President.
A group of 42 students visited Abraham Lincoln's home town in Springfield, Ill. They toured his house, office in the statehouse and his presidential museum.
It was in the museum that they learned how Lincoln wasn't always a beloved politician. However, most of their knowledge about Lincoln was positive and educational.
"It was pretty interesting, because of all of the stuff that we saw at the museum and other places," BESIC fifth grader Megann Lawrenz said. "It was by far the best trip I've taken. They fit a lot of it in one day, but it was just enough."
A full day of Lincoln learning wasn't just for the students. The handful of parents and BESIC staff members also enjoyed the weekend field trip.
"That was my first time, too, so it was very interesting," said Kim Heckathorne, BESIC secretary and gym teacher. "The museum was just amazing. It is very well done."
The trip was planned months ago with Supt. Paul Dorathy's permission and board of education approval. In celebration of Lincoln's 200th birthday, Feb. 12, the school has been teaching and learning all about the president all school year.
Then BESIC Principal Tom Mundinger suggested the idea of traveling to visit Lincoln's home town to celebrate the year of learning. After the nearly-two-day field trip, he deemed it successful.
"It went as well as expected and we had pretty high expectations to start off with," Mundinger said. "It went smoothly and everything was ready for us. It was a fun trip."
Presidential museum
During the trip, the BESIC group visited six different sites in Springfield dedicated to the late president. Those included Lincoln's tomb, his law office, old state capitol building, his home site and the Lincoln train depot.
However, there was one destination that was the resounding favorite — the Abraham Lincoln Presidential Library and Museum.
"It was awesome," BESIC fifth grader Nevin Dunn said. "I loved it. I was probably the best thing I've ever seen."
The Abraham Lincoln Presidential Library and Museum is a 200,000 square-foot complex situated in downtown Springfield. Built just a few years ago, the museum uses some of the newest technologies to entertain its audiences.
"The museum is definitely state-of-the-art," Mundinger said. "It's very well done. We were in there for almost four hours and we could have spent more time in the museum."
The BESIC travelers broke into smaller groups to tour the museum, which was filled with rooms of information. The students even dressed in mid-1800s clothes and watched videos about Lincoln's life and the Civil War. Some of the information they read about wasn't positive.
"There were political cartoons that made fun of Lincoln," Heckathorne said. "It was interesting to see the kids' reactions, because we still have those kinds of cartoons now. They didn't appreciate those, because they were pretty vicious. It offended them, because they know the good side of what came out of Lincoln's presidency."
Dunn was one of the students who was disgusted by the old newspapers.
"There was one room all filled with old newspaper and I didn't like that room," he said. "All of the newspapers were from people who criticized and hated Lincoln. There were plenty of pictures that were mean and aggressive. They didn't need to take it that far. That room also taught me how much people hated him. Not everyone loved him."
When they weren't walking around reading about the former president, the students were sitting in a small auditorium watching a play or video. One of the shows, "Ghosts of the Library," used holograms to make the learning interactive. The historian/curator entertained the students, but left them wondering if he was real or imaginary.
"I would have to say the museum was my favorite," Lawrenz said. "They had this little short play called "Ghost in the Library" and I think everybody that walked out of there wasn't sure if the guy speaking was real or a hologram. It was really well done."
No one, even Mundinger himself, was sure if the show's host was real or imaginary.
"We had the kids vote on the way home whether he was real or not and the majority thought he was real," Mundinger said. "I'm not positive, but I don't think he is. He looks real and you think someone is up there talking to you."
The other show they watched was also realistic. "Through Lincoln's Eyes" took the audience into the Civil War and onto the battlefield.
"It was really vivid," Heckathorne said. "The noises were realistic, like the cannon shots and thunder. The seats would move when the cannons were fired, so you would jump. It also had the smell of the smoke from the cannons. It was like you were sitting right in the middle of the battle."
At times, the images might have been too realistic for the students.
"The Civil War show was hard to watch," Lawrenz said. "The pictures were very moving. They were very bad."
Of course, the trip wasn't all educational. There were many hours spent on a charter bus and time to let loose at night.
Overnight field trip
A six-hour bus ride can be a long trip for elementary students. However, when they are allowed to watch movies and play video games on a charter bus, that ride can be a trip they'll never forget.
"It felt like an airplane, because it had individual seats in rows of two," Dunn said. "We sat by our friends and played video games. It was nice. It was fun to know that we're sitting on a bus playing video games when fourth graders were learning."
During the trip, Mundinger would point out specific sites or landmarks over the bus' speaker system. Two of those were rivers, but Lawrenz remembered one sight out her window that caught her attention.
"It was pretty amazing to see all of the stuff we did out the window," she said. "We crossed the Missouri and Mississippi rivers. That was pretty cool. I also saw some slugbug cars that had Mohawks on them. It was crazy."
On Friday night, the BESIC group stayed at Illinois College in Jacksonville, Ill. Mundinger set up accommodations for them to sleep there for the night. It also gave the students time to run wild and be children for nearly two hours.
"The college stay went great," Mundinger said. "Illinois College has a fantastic athletic facility that is almost brand new. What was great is we had the run of the place.
"The kids had been cooped up on the bus and traveling for nearly 11 hours until we got there," he said. "Then they ran around and screamed and got all of that energy out. They had an hour and a half of going 100 miles per hour. They loved it."
After their busy Saturday, the group headed back to Baldwin City, where they arrived around midnight. The only problem on the ride was the stench coming from the back of the bus.
"After a while, the bathroom began to stink, because everyone used it," Dunn said. "Every time someone opened the door, it smelled so bad. I sat near the back of the bus so it smelled really bad. It was a tough ride back home."
Other than the bathroom smell, the trip went smoothly, according to Mundinger and Heckathorne. They were both proud of their students for behaving well and representing their school in a positive manner.
"I was very proud of our kids, because they had done a lot of work here ahead of time," Heckathorne said. "So when we got in our groups, our tour guides would ask questions and every single time, somebody in our group had the right answer."
For the students, it was a once-in-a-lifetime opportunity.
"We learned a whole lot," Lawrenz said. "Before we left, I thought Lincoln was just a president, he got assassinated by John Wilkes Booth and he was a pretty interesting guy. After the trip, I realized how much he did. It was amazing."