Youthful Bulldogs should have depth on mound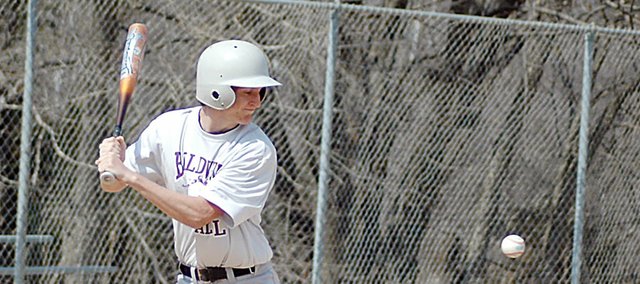 While youthfulness might once again hinder the Baldwin High School baseball team, coach Brock Hartshorn is hoping pitching will be one of the Bulldogs' stronger traits.
One half of Hartshorn's squad might find time on the mound, while 80 percent of the 30-man roster are underclassmen. Many of those Bulldogs played last year, when they went 7-14 and lost the final seven games of the season.
Hartshorn and his players are hoping another year of experience will lead them to a solid season this spring.
"We're still really young," Hartshorn said. "We have 24 freshmen and sophomores, which makes us a very young team again. We have seven returning starters. Maybe next year I won't be chirping about that."
Baldwin returns four starting infielders and two outfielders. The other outfielder is likely to be a returning player, but he will be new to that position. Hartshorn said several players are battling for the Bulldogs' third base position.
On the mound, Baldwin lost its ace when Zach Durr graduated last May. However, a trio of BHS players pitched in several games last year. They are senior Jon Eddy, and sophomores Justin Vander Tuig and Josh Hoffman. Sophomore Nate Growcock might see time on the mound, too, which would force BHS to find a new catcher.
"Of our 30 players, I'd say about 15 are pitchers," Hartshorn said. "It's good to have half of them be pitchers. It will give us some depth at that spot. Hopefully, with three or four good pitchers, we should be a little better pitching wise.
"Those guys will pick up what we lost last year," he said. "Being older, their arms can throw more pitches. Hopefully, we'll get a lot of innings out of those four guys. Then we've got about six guys that can fill in for relief innings."
A handful of pitchers spent some time on the mound Saturday afternoon during the Bulldogs' alumni scrimmage. Each one threw between 30 and 40 pitches during the scrimmage.
"It was a pretty good game setting with an umpire," Hartshorn said. "That really let our pitchers know where the strike zone is and how they're throwing the ball. We went pretty light on the pitchers."
Eddy agreed with his coach.
"The scrimmage was really fun," Eddy said. "The pitchers got to see some live action. A lot of times we don't get to pitch off of the mound before the games start, but we did Saturday. It was really helpful to get an idea of the strike zone, too."
Saturday's scrimmage, along with another one or two this week, have given the Bulldogs a chance to also work on hitting off a real pitcher. The Bulldogs' coach is hoping his team's offense will improve before Tuesday's opener against Saint James.
"It showed a little bit in the alumni scrimmage on Saturday," Saturday said. "Our hitting is a little bit behind our pitching and that's to be expected, because we just don't see a lot of live pitching during practice. That's why we are scrimmaging Wednesday and probably again Friday."
This is the first spring since Hartshorn took over as coach in 2007 that he can remember having proper weather to scrimmage in before the season opener.
"This is the first time in three years we've had pretty good spring weather," he said. "We almost got out today, but we should be out for the rest of the week. During spring break, we didn't miss a day outside. Practices have been going good. Our kids are working hard getting ready for our first game on Tuesday."
The Bulldogs open with a single game against Saint James. It will begin at 4:30 p.m. at the BHS field north of the school. The game was originally scheduled for April 20, but was moved to Tuesday.
"We've all been looking forward to the first game," Eddy said. "Luckily, it's not a doubleheader, so we can just start off with one game. It will be nice to save some energy for the rest of the week."
The junior varsity game will immediately follow the varsity contest Tuesday. Baldwin will travel to De Soto on April 2 for its first Frontier League doubleheader of the season. The first game will start at 4:30 p.m.
"I'm excited to open the season," Hartshorn said. "It will give us a measuring point. We're a very capable team this year and the kids all have more experience after playing in the summer. It's a tough opening week. We have tougher teams early in our schedule and a lighter load in the middle of the season. Hopefully, our kids just go out there and compete."
BHS baseball schedule
March 31 — vs. Saint James
April 2 — at De Soto (DH)
April 7 — at Ottawa (DH)
April 9 — at Wellsville (DH)
April 14 — vs. Spring Hill (DH)
April 16 — at Prairie View
April 20 — at Saint James
April 21 — vs. Louisburg (DH)
April 23 — vs. Anderson County
April 28 — vs. Paola (DH)
May 5 — at Eudora (DH)
May 12 — vs. Gardner-Edgerton (DH)
Games begin at 4:30 p.m. each night