New wetlands taking shape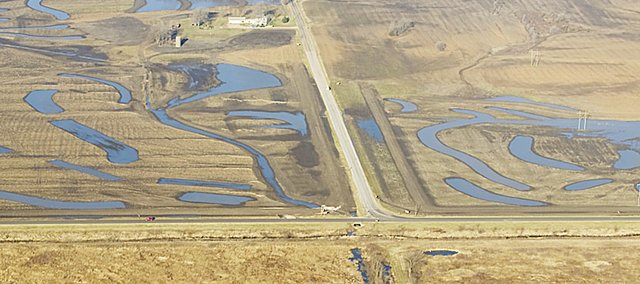 The Ziploc bags are all lined up, each filled with seeds designated for swales being carved into former corn and soybean fields north of the Wakarusa River.
By this summer, the 57 water-filled depressions will receive their plantings — floatings, really — for germination into a new 142-acre expanse of wetlands. A boardwalk also will be installed, a trail system created, a parking lot established and a picnic pavilion erected.
Of course, the actual impetus for all this wetlands work — construction of the remaining stretch of the South Lawrence Trafficway — remains mired in legal limbo. One side maintains the road should be built through the existing Baker Wetlands, while another argues that the existing wetlands should be protected because of their cultural, educational, recreational and environmental significance.
Meanwhile, Roger Boyd keeps plugging along. He's overseeing $975,000 worth of work to establish additional wetlands, on fields west of the extension of Louisiana Street at the southern edge of town.
And that's just fine with him.
"There are a lot of skeptics who believe the mitigation will not work, so we're demonstrating that it will," said Boyd, Baker's director of natural areas. "And it does take some time, so that's to our advantage."
The additional wetlands are at the center of a mitigation plan approved as part of a project that would extend the trafficway from its current ending at Iowa Street to a point on Kansas Highway 10, just east of Noria Road at the southeastern edge of Lawrence. The estimated $140 million extension would run through the northern end of the Baker Wetlands.
'Natural' approach
The state has not secured money to purchase necessary land or to finance the highway's construction. Preliminary surveying work is ongoing, but no set of construction plans has been completed and a pending lawsuit challenges the entire project's future.
As such uncertainties continue, Boyd is keeping busy.
He and his hired contractors have 42 swales in place, with another 15 to go, before they start spreading out seeds collected last year from the Baker Wetlands to the east. Some seeds, such as those for Pink Smartweed, will be expected to germinate, grow into plants and bloom this summer. It could be a few years before others, such as Arrowleaf plants, manage to take hold.
The curving depressions — seen from above, they resemble fairways on a golf course — vary in depth, from 6 to 18 inches, Boyd said. The goal of the swales is to turn the farm fields back into what they had been for centuries: functioning, healthy wetlands.
"They're there to replicate what a floodplain would look like, with all the river meanders, and get rid of the linear pattern the field had for 100 years," Boyd said of the swales. "It's mostly visual, so it looks more natural than manmade. That's the aesthetic part."
Functional, or fantasy?
The additional wetlands actually will function better than the "original" ones to the east, Boyd said. The existing Baker Wetlands don't allow any floodwater to enter because of a levee system installed around the wetlands in 1920.
The additional wetlands, however, will collect drainage runoff: The 30 acres of additional wetlands northwest of North 1250 and East 1400 roads will drain about 80 acres coming off a hillside to the west, Boyd said.
The 112 acres of additional wetlands being created southwest of the intersection will end up draining about 650 acres, including fields on the western side of U.S. Highway 59.
"This area will have more function than the original wetlands," Boyd said. "These will actually retain floodwater."
Bob Eye, an attorney for a coalition of environmental and other groups suing to stop the trafficway from being extended through the Baker Wetlands, said that the idea of "replacing wetlands" was far too uncertain for his clients to really endorse or embrace.
Besides, he said, the Baker Wetlands also carry cultural value for their longtime connection with Haskell Indian Nations University and more.
"They have attributes that go beyond the environmental ones that are in play, and go to the cultural, educational and recreational attributes that cannot be replaced," Eye said. "It's not just something that you pull off the shelf and say, 'We have replacement wetlands.' It's a lot more complicated than that. These wetlands are unique. They have unique attributes that need to be accounted for."