Food pantry in need of donations
Boy Scouts,
BHS

scholars to pick up food Saturday morning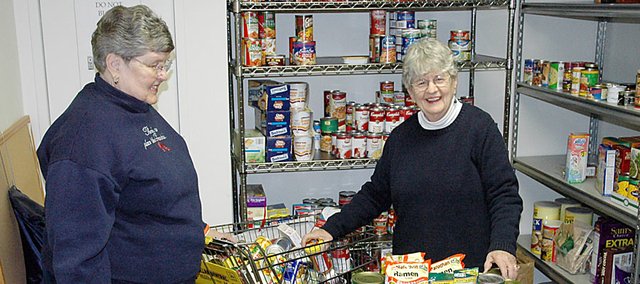 Food and household items are needed at the Community Food Pantry.
Lack of support isn't the problem. In fact, it's just the opposite. The Baldwin City community has continued to give and give, but the need from other families is growing.
"It's really snowballed on us," said Ruth Dickinson, a volunteer at the food pantry. "We had 25 families call us over the weekend. That served 60 people and it nearly depleted our stock. We're looking for any help the community can give us."
Besides the usual donations from individuals and families, the food pantry is hoping to receive a large donation this weekend. Boy Scout Troop 65 and the Baldwin High School National Honor Society are combining their efforts for two weekends.
Last Saturday morning, they scoured the town, distributing more than 1,500 bags. It took them about three hours to complete the annual task, according to Scoutmaster John Richards. The bags were donated by Baldwin City Market.
"It's a lot of work to do each year, but it's so rewarding," Richards said. "I asked the boys if they're having fun yet. They kind of said, 'yeah,' because it's not super exciting, but they understand what they're doing. It's a good thing and service to the community is part of the scouts as well."
Richards said if anyone was missed, they can contact him at 594-4200 or leave a plastic sack of food on the porch Saturday morning. The bags will be picked up between 9 a.m. and noon Saturday.
"We usually collect a substantial amount of food," Richards said. "It's actually part of a national Scouting for Food program. Each year, these two weekends were picked, because this is supposedly the time when many food pantries are short on food."
The food and household items picked up by the Boy Scouts will be boxed and sent to the Community Food Pantry. Richards said the Boy Scouts have been doing that at least as long as he's been involved as a parent, which is since 2001.
"As far as I know, we've always given to the food pantry," Richards said. "We selected them, because they distribute to everyone, not just members of the church or people who are identified by others. We're happy to help each year.
"I think it's incredibly important for people to give right now," he said. "There are people who need it. People have lost jobs. It's not easy right now and it's not going to get easier."
The Boy Scouts suggest donating canned food items or other non-perishables. Some canned examples are soup, tuna, chicken, lunch meat, fruit, vegetables, evaporated milk or any other nutrient meal food.
Dickinson said the food pantry needs those items, as well as cereal and household items such as toilet paper, toothpaste, paper towels and baby supplies.
"We'll be tickled to death to get the food from the Scouts," Dickinson said. "We are eager to get the food from the Scouts this weekend. It's amazing how grateful people in this community are to have this available. I've never had anybody ever leave there without saying thank you."
The food pantry is always accepting donations. Those can be food, household items or even money. It is open from 9-11 a.m. every Tuesday, Friday and Saturday in the basement of the First United Methodist Church, located at Eighth and Grove streets.
There is also a shopping cart in the front of Baldwin City Market that collects items for the food pantry. That cart is emptied about twice a week.
"The whole community is always so generous," Dickinson said. "It's a going enterprise, I guess you could say. We can always use food, always."