Experienced softball squad searching for ace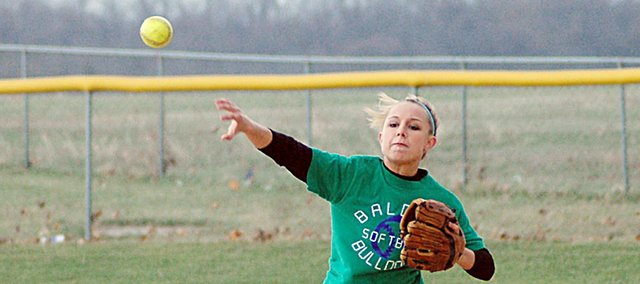 Bob Martin has several challenges to face before his Baldwin High School softball team opens its season Tuesday.
The first-year coach is taking over the program after longtime teacher and coach Ginny Honomichl retired last year. She coached the softball team since it became a sport at BHS in 2001.
Martin has challenges on his team, too. He will be trying to find a pitcher to replace All-Stater and four-year starter Callie Craig. Martin has also been trying to find time for his team to practice on its field — which happens every spring with ball clubs.
"The weather is always a bit of a problem," he said Monday. "This was about our third day to practice outside. We've been able to get something done each day, but until you can get consistent days outside, it's hard to get as much done as you want. Other than that, it's going pretty good. The girls have been pretty enthusiastic. I think we're coming along nicely."
On Monday, the Bulldogs were able to take the field for practice. Gusty winds were a slight problem, but better than being stuck in the gym like the Bulldogs were on Tuesday.
"I told them there is a chance we might play during the wind sometime during the season," Martin said. "I also told them there will be days they were wishing the weather was this nice. We can play in all sorts of weather. As long as the field is dry and it's not too cold, we want to be outside as much as possible."
Since the Bulldogs can't change the weather, they are just focusing on preparing for their opener Tuesday. They will host Wellsville for one game, beginning at 4:30 p.m.
Baldwin ended the 2008 season 11-6 overall and 9-5 in the Frontier League. They will be trying to improve on that this year when they start with the Eagles and a doubleheader at De Soto on April 2.
"Hopefully, the weather will hold off this week and we'll be able to get outside a bit," Martin said. "If we can get a few more days outside, I'll feel better about us being ready."
The 2009 Bulldogs have 33 girls on the team, which is about the same number as the 2008 squad. This year's team has six seniors, as opposed to just one a year ago.
This year's seniors are Kelly Baker, Haley Finucane, Sarah Johnson, Ariel Sanders, Tracie Weege and Alex Zordel. Martin said he is looking for them to lead the team on and off the field, since most of them have started for several years.
"There is a good group of seniors this year," he said. "We have six seniors out and they have some experience. They have been really good leaders so far. We also have a number of girls with some experience back and we have some good, young girls coming up that will help us. I think we'll have a pretty good mix."
As far as replacing that All-State pitcher, Martin plans to move his three-year All-State third baseman to the mound. Zordel was the Bulldogs' No. 2 pitcher last year, but will probably see the mound much more this spring.
"Right now, I think Alex will be our No. 1 pitcher," Martin said. "She has some experience there. She is a really good third baseman and we hate to move her off of that, but we need someone to fill that pitcher spot.
"We have a number of girls that will contend for time on the pitching rubber before we are done," he added. "We're looking for someone to step up as a No. 2 or give us some good innings."
Next weeks' games will begin at 4:30 p.m. The second game at De Soto is scheduled for 6 p.m.
BHS softball schedule
March 31 — vs. Wellsville
April 2 — at De Soto (DH)
April 7 — at Ottawa (DH)
April 14 — vs. Spring Hill (DH)
April 16 — at Prairie View
April 21 — vs. Louisburg (DH)
April 23 — at Saint James (DH)
April 28 — vs. Paola (DH)
May 1 — vs. Hays, 3:30 p.m.
May 5 — at Eudora (DH)
May 12 — vs. Gardner-Edgerton (DH)
Games begin at 4:30 p.m. each night, except Hays games