Big turnout for city council, mayoral candidate forum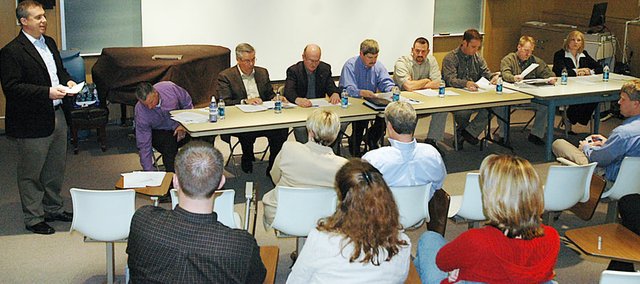 A packed house on the Baker University campus listened to the eight candidates for Baldwin City Council and mayor sing a similar tune – in these difficult times, do more with less.
The Wednesday night forum in the audiovisual room in the Owens Fine Arts Building drew upwards of 80 people for the only time residents could hear the candidates speak in person prior to the April 7 election.
Voters will choose a mayor from incumbent Gary Walbridge, Council Member Ken Wagner and George McCrary. The five candidates for two council positions — all political newcomers — are Tom Farmer, Ric Gere, Russ Gill, Chris Nichols and Bonnie Plumberg.
The candidates took turns answer 10 questions and they agreed with each other on many of the answers. One of the questions from moderator Ivan Huntoon, president of the Baldwin City Chamber of Commerce who sponsored the event, was:
"What is the biggest problem the City of Baldwin City faces and please give specific examples of what you as a leader in our community would do to make things better. Why are you the better choice than the other candidates to accomplish this?"
In order of how they answered:
McCrary — "I don't necessarily think our community is facing problems, but we've got areas we need to address," said McCrary, pointing to the new U.S. Highway 59, the Gardner Intermodal and the new elementary school to be built. "Those all could be possible problems if we don't react to them."
Wagner — "I do think we have some problems in Baldwin City. I think the biggest problem we have is affordability," said Wagner, citing high taxes and utility rates. "We need growth. I believe we need a city staff that will work with the community on growth. We need to hold the city staff accountable for day-to-day decisions. I would ask for the city administrator for budget scenarios for 5-, 10- and 15-percent reductions."
Walbridge — "The biggest problem I'm concerned with is the economic environment we're in now. I'm on the bandwagon of smart growth, controlled growth," said Walbridge. "It's very important on a daily basis that city staff and the mayor keep in contact about the budget. I've got concerns, but with good people on board, we'll make it through."
Farmer — "I think we need to look at some alternatives to lower the cost of utilities," said Farmer. "We don't want to lose this small-town atmosphere. If we stay on track with what we're doing with growth to expand our tax base, it will be good, but we need to be smart about it."
Gere — "I think we're on the right track. Utilities and taxes are the biggest challenge," said Gere. "Maintaining or lowering the mill levy is the biggest challenge facing the council. I'm definitely on the wagon with everyone on growth, smart growth. We need to continue on with that."
Gill — "The population has grown. The problem is we haven't grown any jobs," said Gill. "I would suggest manufacturing jobs. It offsets a lot of things with taxes and utilities. Get some good industrial, manufacturing jobs. We're going to have to do more with less. I don't see any more revenue coming in, so we're going to have to cut expenses."
Nichols — "Gardner is seeing that growing too fast is going to cost more. Smart growth, slow growth is important to bring in more taxes," said Nichols. "That's going to bring more. Right now, there is little incentive for those businesses to locate here because of the utilities and taxes."
Plumberg — "We are considerably higher than communities close by," Plumber said of taxes and utility rates. "A study should be done to find out what they're doing. We're going to have to find a way to cap these costs. I think the first thing we need to do is have some studies done to find out how they're keeping costs down."
Other than those answers, most of the answers given by the candidates were similar. Most of the time the candidates would agree with each other regarding what each had said.
Longtime City Council Member Tony Brown, who is now serving in the Kansas State House of Representatives, attended the forum and that's what he heard.
"There was a lot of agreement among the candidates as to the key issues Baldwin City is currently facing," said Brown. "And by the time three or four candidates had answered a question, it was apparent that there is a lot of agreement as to how to address these issues.
"Voters' choices in this election appear to be on matters of degree, rather than significant differences in political philosophy," he said.
(Editor's note: The Signal's policy is to not endorse candidates because of numerous reasons. Therefore, no "analysis" of the forum will be done. Readers have a host of opportunities to provide their analysis of the forum and the campaign in general.)