Annual breakfast nets record crowd for education foundation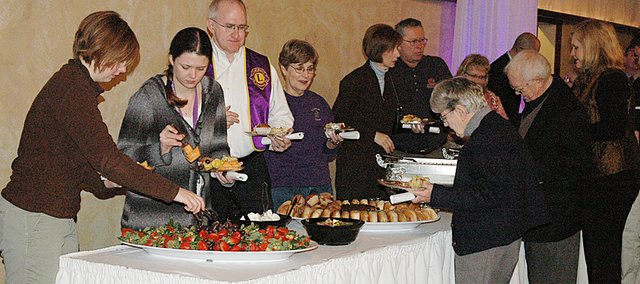 A new venue brought out a record number of attendees at the third-annual State of the District Breakfast March 12.
Despite an absent Supt. Paul Dorathy, the Baldwin Education Foundation fundraiser attracted a record 150 people. That raised more than $4,000 for the foundation. It was held at Stony Point Hall for the firs time.
"We were so pleased with the success of this year's event," said Kathy Gerstner, BEF executive director. "There was a record crowd of 150 people. We had 10 Bulldog Sponsors this year, which was up from last year. We are very grateful to the community and everyone who attended for their support of this event. It truly was a celebration of education."
At the first two years of the event, Dorathy has addressed the audience about the previous year in the district and the future. This year, he was in Arizona for a conference with School Board Member Ande Parks.
In his absence, the BEF asked two DLR Group architects to give the keynote address. Andy Anderson and Doug Loveland spoke about the district's bond projects.
They spoke briefly about the four projects — athletic complexes, Baldwin Junior High School renovations, new Baldwin Elementary School Primary Center and new performing arts center — while providing sketches for the audience to view.
The other speakers at the breakfast were Gerstner, School Board President Alison Bauer and BEF President Patty Irick. The event ended with a video that highlighted the foundation's Innovative Project Grants that were awarded in the fall. The video was created by Baldwin High School students in Pattyh Lenning's multimedia class.
The BHS jazz band provided music during the early portion of the event, while guests ate breakfast. The band is taught by BHS instructor Will Cooper.
"Will Cooper and the high school Jazz band did a terrific job beginning the morning with music," Gerstner said. "Our thanks go out to DLR Group for an excellent presentation on the new district facilities."
The Bulldog Sponsors were AGC Flat Glass of North America, Baker University, Baker University School of Education, Baldwin City Lions Club, Baldwin State Bank, DLR Group, KU Credit Union, Manning Construction, Mid-America Bank and Schlagel and Associates. The food was provided by Baker University.
"We really want to thank Baker University, especially Tanya Sieber (catering coordinator) and her group, for the wonderful food," Gerstner said. "They do an incredible job each year and without them this wouldn't be possible."