At age 91, Counts believes in importance of healthy living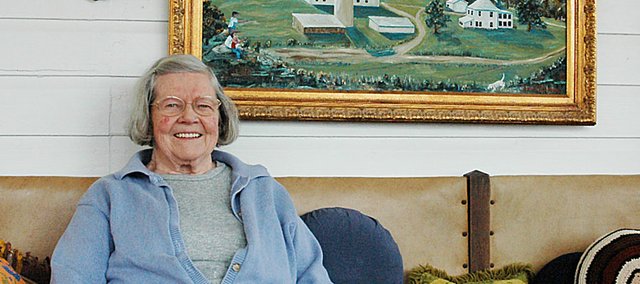 You're never too old to be cautious about your health.
At age 91, Margaret Counts takes active steps each spring to prolong her youthfulness. On Saturday, the long-time rural Baldwin City resident will attend the Community Wellness Festival for the seventh straight year.
"I usually try to go every year," Counts said. "I think I've gone every year they have had it. I believe in taking care of your health. I believe in regular check-ups all of the time. I believe in going to your doctors. This is a way to go get checked up without going to my regular doctor. The best thing you have is your health and if you don't have your health, life doesn't matter."
The seventh annual event will begin at 9 a.m. at Baker University's Collins Center. It will end at noon when the nearly 60 exhibitors close up shop.
"I always plan to attend," Counts said. "I've always liked going to community things."
Since the Community Wellness Festival began in 2003, Counts has attended. Each year, she pays for the lab work, takes advantage of the free health screenings and walks around to many of the free exhibitors. She always checks her blood pressure and bone density.
"I found out I need more calcium," Counts said. "I love to drink milk, but that's not enough. When you get to be my age, you need to keep your bone density and things like that up."
Ruth Sarna, event director and director of Baker University student health services, is happy to see Counts attend the festival each year for several reasons.
"The exciting thing about her is that she is so sharp mentally and in tune to participating each year," Sarna said. "It's a wonderful example of the age range we get. We give bicycle helmets to the youngsters and then we have someone who is 91 saying this a good thing and everybody ought to be coming. The wide spectrum of ages it touches is exciting."
The festival is free and open to the public. The usual assortment of free health screenings will be offered, which include blood pressure, posture check, body fat, bone density, hearing, vision and lung volume. There will be 59 exhibitors at the festival.
There will also be drawings for prizes, including two children's bicycles and one adult bicycle. Children accompanied by an adult can receive a free bicycle helmet. Around 50 exhibitors are expected at the festival.
"We're hoping for a good crowd and that people will take advantage of everything we have to offer," Sarna said.
Before the annual festival begins on Saturday, there will be a 5-kilometer run/walk. It will start at 8 a.m. at Baker University's Collins Center, which is located on Sixth Street, between Elm and Fremont streets.
Registration for the event begins at 7:45 a.m. An entry fee of $5 for an individual and $10 for a family is suggested. The money donated will help pay for the festival, according to Steve Friend, Baldwin City Recreation Commission director, who is organizing the 5K run/walk.
"We thought we'd help by doing something healthy that encourages fitness," Friend said. "It's just a fun event. It will run around Baker's campus a couple of times without crossing any streets."
For Counts, health and the medical profession were interests in her family. Her grandfather, sister and sister's husband were all doctors.
Now, she is the only family member in the area. Yet she takes care of herself and keeps up to date on her health.
"I think it comes from being happy and eating regularly," Counts said of living to turn 91 earlier this month. "I haven't always done that. I've always had a great family and friends. To me, this is a great community to be in. I've been really fortunate with my health, too. I believe in doing what the doctor says."
Her advice to longevity is being happy, active and healthy.
"Be happy and if you aren't happy, change something," Counts said. "When you wake up in the morning, be thankful you're here. There are always so many fun things to do. So be happy and take care of your health."