Staying healthy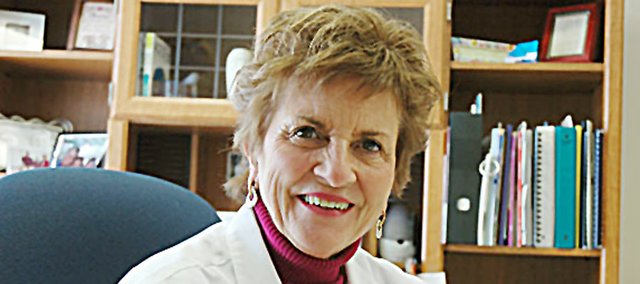 Ruth Sarna, director of Baker University student health services, answers five questions about the seventh-annual Community Wellness Festival, which is 9 a.m. to noon March 28 at the Collins Center.
Q: Why should the community attend the festival?
A: It's a wonderful opportunity for the community to get information about the services that are available to them. We have more than 70 people signed up for the lab work already. That's such a bargain. We have had between 300-400 people attending each year. We would love to have 500 if it's a nice day. We also have more than 60 exhibitors already attending.
Q: What free screenings are offered and why are they important?
A: The screenings include bone density, hearing, vision, body fat, blood pressure, posture check and lung volume. These are important, because people need to be tuned into their health. With these screenings, they can keep themselves in tune with their bodies and seek further medical attention from their doctor.
Q: Why is the lab work so important?
A: The PSA (Prostate Specific Antigen test) is so important for men over 40. Two years ago Dan Harris discovered he had prostate cancer, but he found out early enough that it was taken care of in time. The other lab work helps people find out things they might not know about their body, like high cholesterol.
Q: What's the draw to the event for families with children?
A: One new event this year to the festival is 5K run/walk. Steve Friend with the Baldwin City Recreation Commission is trying to promote fitness for individuals and families. Also, the Lawrence Fire and Medical staff will have about 50 bicycle helmets to donate to children who are accompanied by an adult. The first 150 visitors will receive free t-shirts and there will be a drawing for free children's and adult's bicycles.
Q: Is there anytime between 9 a.m. and noon that's best to attend?
A: We are usually busy early in the morning with people doing their lab work. Then it seems like we are steady throughout the rest of the morning. By 11:45, we're about ready to wrap up. The vendors set up about 7:30 or 8 a.m. so it's a long morning for them.