Neighbors: Marvette Ralston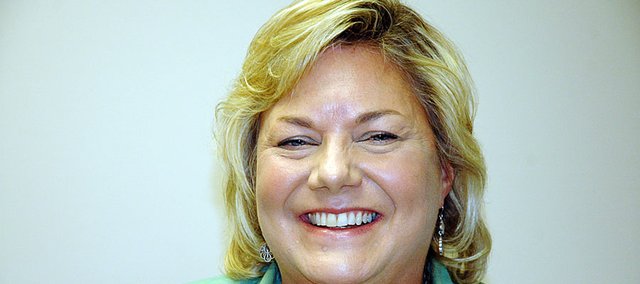 Occupation: Administrative assistant, Five Rivers District United Methodist Church.
Family: Husband Lonnie, daughter Heather, son-in-law Eric, grandson Trent (age 5), son Derek, daughter Holly.
Place of birth: Lafayette, Indiana
Q. How long have you lived in Baldwin City and what brought you here?
A. Almost 10 years. My husband took a job in Kansas City. We picked this town for its size and the schools.
Q. What's the biggest risk you've ever taken?
A. I like to think I haven't taken it yet. However, moving here was a big risk. I had a good job at The Quaker Oats Company in Manhattan. It all turned out great, as I love small-town living and Baldwin City.
Q. What's the best piece of advice you've ever been given?
A. Always stay close with your siblings. I have four younger sisters and my mom stressed us getting along. When push comes to shove, they are always there for me.
Q. What two things would you want people to know about you?
A. I always carry two fishing poles and a tackle box in my trunk for fishing opportunities with my grandson.
I'm a fearless car traveler. I will travel just about anywhere with an atlas, well maintained vehicle, my cell phone and my AAA membership.
Q. What did you want to be when you grew up?
A. A missionary nurse. I have always had a heart for the oppressed and love to travel.
Q. What's the best way for you to get away from it all?
A. Spontaneous outings with my grandson and kids.
Q. What's your ideal vacation spot?
A. The Outer Banks in North Carolina. I love to swim in the ocean and walk the beach shell collecting.
Favorite things
Song: Jaded by Aerosmith, Ain't No Mountain High Enough by Michael McDonald
Movie: The Notebook by Nicholas Sparks
Color: any shade of red
Food: sunflower seeds, seafood