Mundinger is principally retired
First grandchild helps to put end to 37 years in education — happily, too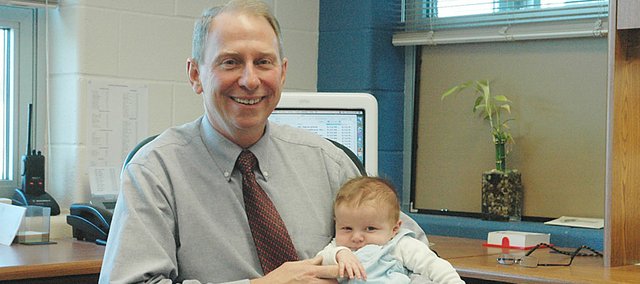 After 37 years in education spanning three school districts, Tom Mundinger is hanging up his post as Baldwin Elementary School Intermediate Center principal.
For the second time in the past 15 months, Mundinger has announced his retirement. However, he said this one is final.
"Yeah, it's official," he said. "There is no turning back now. I turned my letter in and the board approved it. The board and Mr. (Supt. Paul) Dorathy have been wonderful to work with. So yeah, it's official."
In January 2008, Mundinger first retired. He said he was trying to collect retirement benefits but find a way to still keep his position as BESIC principal. When that couldn't happen, he resumed his post.
To the surprise of some of his staff members, Mundinger would only return for one year. His letter of resignation was approved by the school board at its March 9 meeting.
"I was surprised it was this year," said Kathy Dorsey, BESIC fifth grade teacher. "I knew it was coming, but I was sad it was this year. I had hoped he'd be here as long as I was teaching here."
Mundinger has been eligible to retire for several years. Kansas educators need to accumulate 85 points — through years of service, plus age — to retire from the state. When he completes his duties in June, the BESIC administrator will have tallied 96 points.
"In Kansas public education, the magic number people talk about is 85 points," Mundinger said. "I got my 85 points about five years ago. The 85 points mean you are eligible for full retirement. Once you become eligible, you think about your options. My choice at the time was to stay here, because I loved it here."
As of July 1, Mundinger will be starting a new chapter in his life. For the past 26 years, he's been a principal in Baldwin City. Officially, that new chapter started in December.
His oldest daughter, Mandy, gave birth to his first grandchild. Mason Thomas Banks changed Mundinger's thinking of how he wanted to balance his personal and work time.
"There was a major event that took place a week before Christmas," Mundinger said. "My oldest daughter had our first grandchild. His middle name is named after me. They live just about five to 10 minutes away from us. I want to play an active role in being his grandpa. It was a big deal for us to have a grandchild."
Small-town beginnings
Mundinger began his educational career right out of college. After graduating from Southwestern College in Winfield, he was hired as the fifth grade teacher in Dexter. His plan was to take the job for a year, while his wife, Brenda, finished her final year at Southwestern.
A year later, Brenda was hired as the kindergarten teacher in Dexter. They moved their belongings in a school bus to Dexter and into their first house.
"We loved every minute of it," Mundinger said. "It was a great opportunity, because I got to coach. I drove a bus. I was city clerk and president of the civic club. It was a small town. We could have stayed there forever."
Five years in Dexter was enough for the Mundingers. They moved to Altamont, located east of Dexter and directly south of Parsons. While there, their two daughters, Mandy and Molly, were born. Brenda taught some and cared for their daughters during their six years in Altamont.
Mundinger was hired as the elementary school principal. He said the school district went through consolidation and there were some hard feelings in Altamont. Plus, there were other issues at his school, but it was an experience he'll always remember.
"I was lucky to walk into a really unique situation where we had the opportunity to make a significant impact on a school and a community," he said. "The school had a bad reputation and was looked down upon. I had a lot of people that were very supportive. That was a once in a lifetime opportunity to, literally, turn a school around. It was a great experience."
Then came the next move — one that would land him in Baldwin City for 26 years. A friend of Mundinger's asked him what he knew about Baldwin City, because he was considering applying for the job.
Mundinger, who was familiar with the town, asked his friend if he wouldn't mind applying for the opening. Baldwin's Supt. Bill Neuenswander hired Mundinger in 1983 as the Baldwin Elementary School principal.
"He was wonderful to work for," Mundinger said. "Mandy was just starting kindergarten in our first year here. We moved here, bought a house and the rest is history, as they say. Before you know it, 26 years went by. My girls grew up and I'm old. It went fast."
Adapting to changes
For more than two-and-a-half decades, Mundinger held his post. He started his career in the current Baldwin Elementary School Primary Center building. It was the BES building until the school split earlier this decade.
In 2003, Mundinger and his staff opened the new building on U.S. Highway 56. His building became the home for the third through fifth grades, while BESPC has pre-kindergarten through second grade.
"It was difficult to split the building and staff at that time," Mundinger said. "People forget this, but the reason for doing that was the board and the community said that building was too big. Coming out here was a like a breath of fresh air."
While the move might be the most notable physical change during his tenure, there were others behind the scenes. While the obvious has been staff members coming and going, except librarian Jane Miller, who started at BES before Mundinger, another is the state assessments.
"I do think at some point in the future, they will look back on this period in education and shake their heads," he said. "They will call this the era of testing. I won't miss that piece and I have empathy for those that remain and will continue dealing with it."
Now he will no longer be faced with pressures of state assessments and testing. Mundinger might still stick around education in a small manner during his retirement.
"I do plan to do some subbing for two or three years. I don't want to sub full-time, but just to have some extra spending money. I am actually looking forward to that, because I've been out of the classroom for so long. I am looking forward to being back in the classroom and being around the kids in that capacity."
In two months, the classes will be over at BESIC. Mundinger will just have one more month remaining until his long tenure is finished. While he's ready to move on, he will miss his teachers and students.
"We've loved it here," Mundinger said of him and Brenda. "If you want to be a principal, this is a dream job and I know that. That's part of the reason I stayed here for the past five years. This is a wonderful school district.
"If I had to pick one piece that was probably the most significant reason for why I stayed and what makes it the most difficult to leave behind, it would be the staff in this building," he added. "I love coming to work. I don't want to sound cliché, but it truly is like a family here. That will be the piece I miss the most."