Local youth enjoying week of madness at basketball camp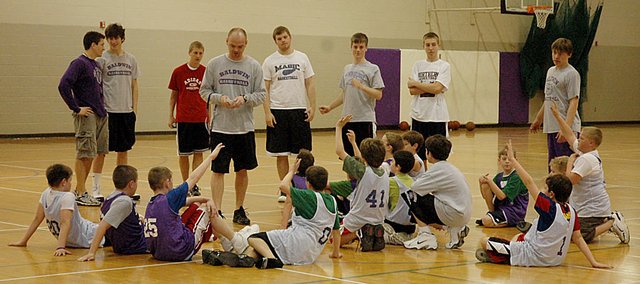 High school basketball is over in Kansas, but college roundball has the country anxiously awaiting today's start of the NCAA men's basketball tournament.
However, here in Baldwin City, 18 youth boys have been hitting the gym and enjoying their own March Madness. Baldwin High School boys' coach Eric Toot will wrap up his spring break basketball camp today at noon.
"The camp has been good," Toot said. "The numbers are a little down from last year, which I am a little disappointed in. You just never know about numbers when you have it over spring break. Plus, the economy could be affecting it too. I tried to keep the cost down, but I wanted to make a little money for our program and cover my costs. We have about 18 kids here that are working hard and having some fun."
For the past three days, a group of fourth, fifth and sixth grade boys learned from Toot and current BHS players. During the first two days, the boys were taught individual skills that they can work on during their own time. On Wednesday, they became BHS players temporarily by learning some of the Bulldogs' drills.
To end each day at camp, the boys broke into teams and scrimmaged 3-on-3. Each game was highly competitive and some even required sudden-death overtime.
"We are just trying to show them some individual drills they could do at home," Toot said. "We did that the first two days. Then we let them play 3-on-3 in the half court each day.
"I think 3-on-3 is a great way for kids to learn the game without having to worry about getting up and down the court," he said. "They get more shots and touch the ball a lot more. It gets everybody involved and there is more scoring, because you're not wasting time dribbling up the court. It lets them work on their offensive skills more, too. "
This year marked the second year for the camp. Toot said he enjoys hosting the spring-break camp, because it gives area boys something to do during their break from school.
"I like doing it over spring break, because there is a lot of baseball in the summertime," he said. "It gives the kids a chance to do something over break. We've given away prizes. We have contests every day. We have skill development and trivia contests. We've given away t-shirts, shorts and things like that."