Grass to be greener at Vinland Airport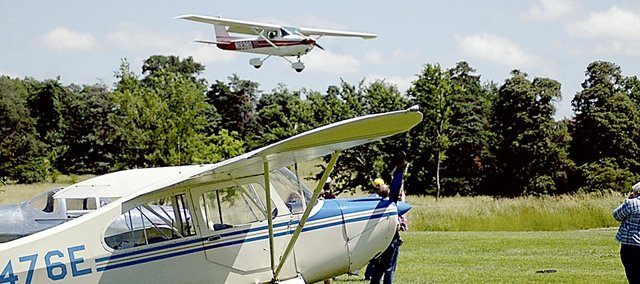 VINLAND — With state backing for a $44,504 project to reseed the Vinland Airport runway, aviators will have a greener and much better place to take off and land in southern Douglas County.
"What we're doing is instead of putting environmentally unfriendly asphalt down, we're taking the green approach," said Dave McFarlane, owner of McFarlane Aviation and the airport north of Baldwin City.
The Kansas Department of Transportation has agreed to pick up 75 percent of the cost, $33,378, as part of its 2010 Kansas Airport Improvement Program. Vinland was one of 37 projects approved by KDOT totaling $3.54 million.
McFarlane was excited that the funding was approved, but said it's unknown when the project will take place. The plans call for the reconstruction of the runway's base, as well as establishing Bermuda grass to land on.
"We don't have any details yet," McFarlane said about when and how the project would take place. "It's a reconstruction of the base, similar to what happens with a golf course.
"It should make it to where we have a real solid base," he said. "There are some fairly touchy time frames because of the grass we're using."
A great deal of research went into the Vinland plan and it wasn't lost on KDOT officials.
"They've got a great plan," said George Laliberte, a member of the aviation staff. "Essentially, they're going to start over with it."
When the project is started, herbicide will be used on the present grass, a seedbed will be established with sand over it, then rolling and packing will occur, he said. Eventually, it will be overseeded again.
"The thing about turf runways, unlike asphalt, you can't just go in and do it," said Laliberte. "It takes time."
That means two to three years before the project is complete. Because of the timing involved now, McFarlane isn't sure if contractors can be in place for it to happen this year.
"I don't think it's going to happen real quickly," said McFarlane. "Maybe not this year. We're not sure. It's a phase-in thing. It doesn't happen all at once."
He also said details need to be worked out regarding keeping the airport open as much as possible during the time frame.
"That's our hope, that we can do it without closing the airport for any long periods of time," he said. "We are a public-use airport, even though it's privately owned and isn't supported by taxes.
"It will improve transportation in southern Douglas County," said McFarlane.
He also said the $11,126 necessary to match the KDOT funds will be there.
"We'll pick up our end of it," he said.