School district's budget news much better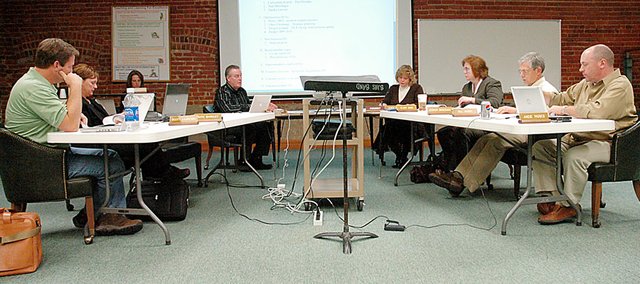 Budget cuts that were once believed to cause major problems in the Baldwin School District might have a silver lining.
Supt. Paul Dorathy informed the Board of Education about the possibility of the district not having to cut as much as expected from the 2009-2010 budget. While the state legislature hasn't approved anything during its session in Topeka, Dorathy has heard some positives from Kansas Association of School Board's representatives.
"Whatever happens in Topeka, plus whatever happens with our healthcare will equal how much we will have to cut from next year's budget," Dorathy said at Monday's meeting. "When we get more definitive numbers, that's when we are going to have to nail it down. We'll still have to cut some things, but hopefully it's moving in a direction that is more positive than negative right now."
On Monday, the House Appropriations Committee approved Gov. Kathleen Sebelius' budget amendment on school funding, which takes into consideration money coming from Washington D.C., through the American Recovery and Reinvestment Act. A Senate subcommittee has taken similar action.
If this proposal gains full House and Senate majorities and Sebelius' signature, then school funding will essentially stay flat for the next two school years.
"What we're understanding is that the house and senate are favoring the bill," said School Board President Alison Bauer. "It looks positive right now."
At the beginning of the school year, the base state aid per pupil was $4,433. That was decreased to $4,400 in a bill that dealt with the budget deficit. The $33 per pupil would be a loss of about $65,000 for the Baldwin School District, according to Dorathy.
That is much less than first expected. State lawmakers were considering a 10-18 percent cut to schools. According to Dorathy, a 10 percent decrease would cut around $700,000 from the district's budget, while 18 percent would cut about $1.2 million.
"We're hopeful that before they leave for their recess they'll make a decision on next year's budget," Dorathy said. "That would help us with a lot of decisions we have to make here."
Baldwin will also be battling significant health insurance costs next year, because of increasing premiums during the past several years. To fix the problem, Dorathy said the district must pay 100 percent of the premiums for all of its employees.
"The good news there is we have four companies looking at giving us prices," Bauer said. "We usually just have one, so hopefully the result will be positive."
In other budget news, Dorathy told the board Monday that he heard the state legislature might give back funding to districts for driver's education. Last month, the school board unanimously increased the driver's education fee from $160 to $250. Many area districts also jumped their fees, because of a lack of state funding.
"That talk is that they might be putting the money back into driver's education," Dorathy said. "If that happens, then our board will be able to review the fee that it approved. There is a potential that we might be able to lower that."
In the final piece of budget talk Monday, Dorathy said he met with superintendents from schools in Douglas and Johnson counties. He said they talked about forming an insurance consortium with schools from those counties.
"Right now, that's just in the talking stage," he said. "I don't know how far that might go, but the good thing is there seems to be some interest among other school districts to form a group consortium. That would be a wonderful thing for us, if we could make that happen."