Hannon, Miller earn all-american status at indoor nationals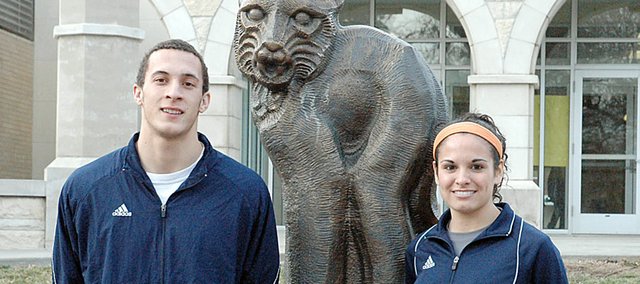 Aaron Hannon and Ashlee Miller proved their ability to perform in the clutch at last week's National Association of Intercollegiate Athletics Indoor Track and Field Championships in Johnson City, Tenn.
It was their final performances that boosted them to third place. The pair of Baker University juniors' placings earned them their first All-American status in the indoor multi-event competition.
"I was proud of our kids for putting it all out there," said Zach Kindler, Baker track and field coach. "They knew what it was going to take to get up to third place. They just went out and did it. That's what is awesome about it."
They didn't know what it took to place third until their final race was about to begin. All Miller had to do was beat the current third-place woman by 16 seconds in the 800-meter run. For Hannon, he just had to defeat his competitor by eight seconds in the 1,000-meter run. That would be enough to propel Miller into third place in the pentathlon and Hannon into third in the heptathlon.
"They were both coming into their last event in fourth place," Kindler said. "They had to beat the person in front of them by quite a bit to move up."
The task might seem daunting, but Miller crushed Tiffeny Parker of Azusa Pacific by 24 seconds in the short distance race. In fact, Miller ran a personal-best time of 2:22.45.
"I thought there was no way I could beat her by that much," Miller said. "My coach just told me to just run the race. I went out and PR'd with a 2:22 and I beat her by enough. It was very exciting."
The situation turned out nearly identical for Hannon. He defeated Doane's Ross Smithey by 17 seconds in the 1,000. He also ran a personal-best time, while earning himself a third-place finish.
"I had to beat the guy by eight seconds and I ended up beating him by 17," Hannon said. "I PR'd in the race by 10 seconds or so. I normally hate that race, but this time I ran it with some effort and had something to run it for. I used a little more willpower this time."
The 2006 Baldwin High School graduate recalled the moments after the race as being nervous, while his coach watched for Smithey to finish the race.
"Coach Mackie (Valentin) was timing the race," Hannon said. "He said I was only five seconds in front of him after the first lap or two. When the last lap came around, he just died. It's what everyone told me. Once I finished, Mackie looked at his watch and eight seconds went by and the guy was just coming around the corner.
"I was extremely excited afterwards," he said. "I wanted to jump around after I heard I got third. It was really exciting. My overall goal at the beginning of the year was to be an All-American. Third place is a lot higher than I expected to finish."
After her race, Miller, a 2006 Osborn (Mo.) High graduate, said she wasn't as concerned about her opponent. She even had troubles early in the race with being trapped behind other runners.
"I didn't look back to see her finish, because I was pretty tired after the race," Miller said. "I was surprised I ran so well, because I got boxed in at the beginning of the race. I went from the back of the pack to finishing second in the race. I was so happy with my 800 time and I wasn't too worried about her."
Besides setting personal-bests in their final races, the two Wildcats also set personal-records in other events during the national meet. Miller threw 31 feet in the shot put to set a new mark for herself. She also ran her second-fastest time in the 60-meter hurdles (9.27 seconds), set her second-best mark in the long jump (18-feet-1.5) for the season but jumped average in the high jump (5-3).
"Ashlee did really well in all of her events, except for the high jump," Kindler said. "She just did average on that, but even if she did terrific in the high jump, I don't know if she could have caught them. They are both defending national champions in different events."
Hannon set personal records in more than half of his events. Besides the 1,000, he also set new marks in the long jump (22.3.5), shot put (40-0.75) and pole vault (13-3).
"It was very tight and very close," Kindler said. "The reason Aaron did so well was he PR'd in four of his seven events. When you do something like that, it's very helpful at the national meet."
Hannon's other events were the 60-meter dash (7.2 seconds), high jump (5-7.75) and 60 hurdles (8.59).
"It's really exciting, because, like coach told us, it puts Baker on the map," Hannon said. "People will start to notice Baker a bit more now. It was just really fun, because we both work really hard."
Baker senior Chelsey Ornburn missed making All-American status by one height in the women's pole vault. She cleared 11-3.75 to tie for seventh place.
"We had a great weekend," Kindler said. "Everyone competed really well and I was proud of them."
Both Miller and Hannon are aiming to place high at the outdoor national meet. Miller will be competing in the heptathlon, which will include two more events.
"In outdoor, I'm hoping for a third place, maybe a second at nationals," Miller said. "I'm hoping to move up with 200 and javelin in there."
Hannon is optimistic the decathlon will benefit him, because he is confident in the 400-meter dash, javelin and discus.
"I'm definitely going to keep working hard and get All-American again," Hannon said. "Some of the new events that weren't in the heptathlon are some of my stronger events."