Board hears update on bond projects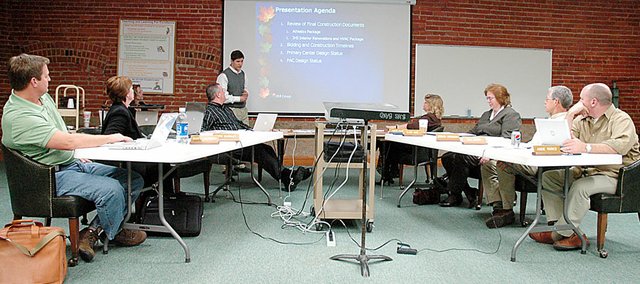 Official costs on two bond issue projects might be coming in during the next few weeks.
Doug Loveland of DLR Group presented updated drawing and schedules to the Baldwin School Board Monday night. Loveland discussed the four projects, but the new elementary school and auditorium aren't quite as far along as the others.
The athletic complexes and the Baldwin Junior High School renovations are the two projects that will go out for bidding in the near future. The athletic complexes include four new ball fields near Baldwin Elementary School Intermediate Center and a practice track around the Baldwin High School soccer field.
Loveland told the school board he'd like to come back to the April 13 meeting with bids for them to approve. Supt. Paul Dorathy hopes that will happen, because construction companies are anxious for work.
"It would be nice," Dorathy said. "We're moving along quickly. Right now, the bidding environment is very, very competitive. So, the sooner we start bidding these projects, the better opportunity there is to save some money."
Loveland explained the sketches of each project. He said the ball fields will have a varsity baseball and softball field with sod laid down and two junior varsity fields that will be seeded for grass.
He also said they would keep the current sidewalk that connects Elm Street with the BESIC. The path would go in between the fields and still connect with the school. That project is slated to start in May and end in September. The athletic project north of BHS is expected to begin in August and end in February 2010.
At BJHS, the projects include replacing and cleaning the heating and cooling units, re-roofing the area above the auditorium and extensive work to three of the corridors. That project will be done during the summer.
"It has to be aggressive," Dorathy said. "We've got to start as soon as school gets out and those have to be completed before we start school back up in August. Once the teachers finish in May, they will start working."