April election drawing ever close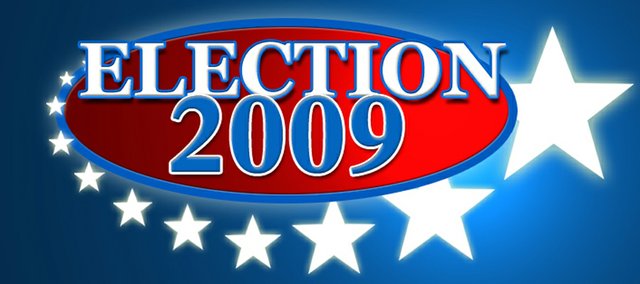 With less than a month before the April 7 election that could change the face of the Baldwin City Council, interest in the race has started to build.
One only has to look at the signs for candidates popping up even more around town and accusations of them being removed. Yes, there's a race here after all.
Vying for the mayor's position are incumbent Gary Walbridge, current Council Member Ken Wagner and one-time Council Member George McCrary. There are five candidates seeking the two openings on the council created when incumbents Amy Cleavinger and Doyle Jardon chose not to run for re-election. Those candidates are Tom Farmer, Ric Gere, Russ Gill, Chris Nichols and Bonnie Plumberg, who are all new to the political arena.
They will face some hard choices in the next few years because of the economy and former Council Member Tony Brown believes it's important that quality leadership is elected.
"Good leaders emerge during challenging times," said Brown, who resigned his post in December to serve as 10th District House of Representative. "As our community faces difficult decisions over the next few years, it is important for voters to elect local officials who can make prudent decisions.
"Because of the current economic situation, this election may be one of the most important in recent memory," he said.
Voters have several ways to inform themselves on the candidates. In this week's Signal, there are candidate profiles and questions and answers for the three mayoral candidates. They can be found on pages 9 and 10. Profiles on the city council candidates will be in upcoming issues of the Signal. They will all be available online at www.baldwincity.com.
The Baldwin City Chamber of Commerce is once again sponsoring a candidate forum. That will be at 6:30 p.m. March 25 in the audiovisual room in the Owens Musical Arts Building on the Baker University campus. Chamber President Ivan Huntoon hopes to see a good turnout.
"I hope to see a large crowd at the forum, so the public can familiarize themselves with the candidates, their views and the direction in which they would like to take our community," said Huntoon. "I believe that the current national problems with the economy and healthcare system, just to name a few areas, have opened the eyes of the general public to the truth that when things seem to be too good to be true, they usually are.
"We need to make sure that we continue to make good choices that will be in the best interests of the community and its residents," he said. "The chamber hopes to provide a forum that will help to educate the citizens of Baldwin City about the current and future issues that our community is facing and may face, as well as introduce candidates that will possibly be dealing with these issues."
There's another date to be aware of regarding the April vote. Baldwin City residents who aren't registered to vote have until March 23 to register in order to be able to vote. Registration can be done at the Douglas County Clerk's office in Lawrence or online through the Web site at www.douglas-county.org.
Brown is encouraging everyone to vote on April 7.
"One of the ironies of modern politics is that citizens tend to vote more often in national and statewide elections than in local elections," said Brown. "It ought to be the opposite. Local politicians affect our daily lives to a far greater extent than do national and state politicians."