Runner-up finish disappoints Callahan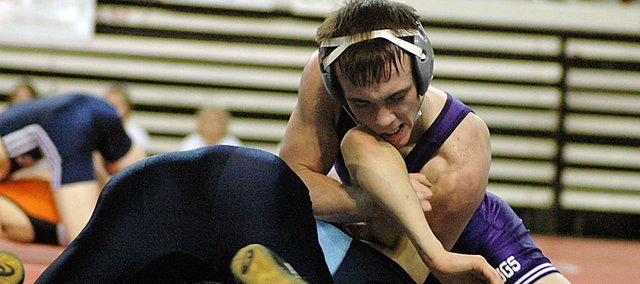 SALINA — In lieu of not achieving his ultimate goal, Alan Callahan did leave here Saturday with his best finish ever.
For the first time in his four-year career as a Baldwin High School wrestler, Callahan reached the finals of his weight class. The BHS senior was close to repeating history from a year ago, when his older brother, Kevin Callahan, won a Class 4A state championship.
However, Callahan ran into Taylor Moeder of Saint James — a sophomore that he's wrestled four times this season. They split the first four matches, but Moeder won the final contest. Callahan finished as the runner-up in the 112-pound weight class.
"I'm kind of happy, but I'm kind of disappointed in the same way," Callahan said. "I didn't have it today. It wasn't my day to get it done. I'm kind of happy to get second, but wish I could have gotten the state championship."
Callahan had finished third and sixth at state as a freshman and sophomore. Last year, he failed to medal. This year, he advanced to the finals, but lost to Moeder.
His semifinal victory tied him with his older brother for the state's career wins record. They finished tied at 171 wins apiece for the record.
"Second place is a lot to be proud of," coach Kit Harris said. "Yeah, he was very upset and disappointed. I told him to stand proud on that award stand, because there are a lot of kids that would be proud to have the success he's had. He is a winner. He wanted nothing but the top. His thinking that way allowed him to win 171 matches. That's a huge achievement. To win that many matches is a credit to his toughness."
The Saint James sophomore beat Callahan 7-0 in the finals. Moeder scored a first period nearfall to go ahead 2-0. He then kept Callahan on the mat for the remainder of the period.
Moeder scored an escape point and another nearfall in the second period. Trailing 5-0 in the final period, Callahan desperately tried to take Moeder down. His over aggressiveness made it easy for Moeder to score a final nearfall.
"I just got caught a couple times," Callahan said. "Then I couldn't get out of bottom. It's what we worked on all week and I was getting out fine in practice. I just couldn't get it done today. I couldn't get out."
Harris said Moeder has improved throughout the year and he just wrestled a better match in the finals.
"Moeder has always been a very good wrestler," Harris said. "He's been a champion since he was 6. The physical matchup was a tough one for Alan. Moeder has length and strength on him.
"We had a game plan, but Alan gave up a couple takedowns early," he said. "Then he was in the hole. He kept pushing, which allowed Moeder to score another. You can't take anything away from Moeder. He wrestled a great state tournament."
On Friday, Callahan defeated Prairie View's Bo Newport 7-2 in the semifinal round. He also defeated Scott City's Francisco Antillon 11-6 and pinned Hiawatha's Chris Babel earlier in the day.
"Yesterday was probably the best I've wrestled at state, especially in the past couple of years," Callahan said Saturday. "I'm glad I wrestled well yesterday so I could make it to today."
Callahan set several school records during his four years as a Bulldog. Those will be highlighted in a story next week.
"I'm happy with my career here," Callahan said. "I was very successful. Now I'm just ready to start a new chapter next year."