First-round exit shocks Bulldogs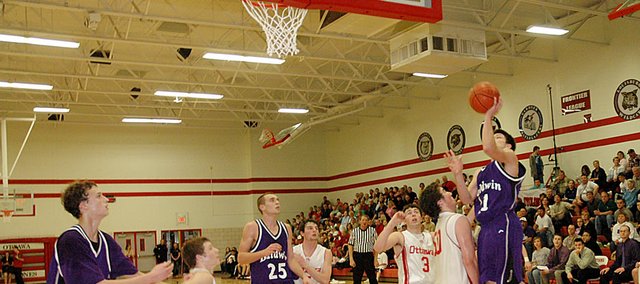 KANSAS CITY, Kan. — Momentum didn't roll over from last Thursday to Monday night here for Eric Toot's Baldwin High School boys' basketball team.
After defeating rival Ottawa on the road, 56-51, in what Toot called their "best game of the year," the Bulldogs struggled in their opening round sub-state contest. They fell to Kansas City Piper 57-44 to end the season 12-9.
"It's something we've battled all year," Toot said. "We were inconsistent all season. We had trouble all year against pressure, but I thought we turned the corner Thursday. We handled their press fairly well. Tonight, we didn't handle it very well and it led to some easy baskets for them.
"We just didn't play well tonight," he said. "We weren't very aggressive. We didn't attack their press well tonight. It's a tough way to end, but we just didn't play well as a team."
Monday's loss was the final game in a Bulldogs' uniform for six seniors. Sam Beecher, Clad Kueffer, Brandon Tommer, Logan Schiller, Blake Randels and Chris Hecker played their last game for BHS.
"It was extremely hard to take in that it was my last high school game ever," Tommer said. "Their press put a lot of pressure on us and sped up the game out of our normal comfort zone of pounding the ball inside to our big guys."
The Bulldogs' final two games were similar from a scoring manner. In both contests, the two teams played the first quarter basically even. Then Baldwin's opponent opened up a sizeable lead before halftime.
Against Ottawa, Baldwin trailed 25-17 after a 5-5 first quarter. On Monday, Piper led 28-18 after BHS started the second quarter with a 12-11 advantage.
In both contests, it was the opposing team's defensive pressure that forced several Bulldog turnovers during the second and third quarters. Toot said Piper's press was more troubling for his team.
"We worked on it, but it's really hard to simulate in practice," Toot said. "We can't match their quickness or athleticism in practice. So we focused on what we needed to do to execute."
The difference in the final two games was the first few minutes of the fourth quarter. At Ottawa, BHS went on a 10-3 run in the first 3:30 of the quarter. On Monday, it was just the opposite.
Piper scored the first nine points of the frame, opening up a 47-33 lead with 5:06 remaining. Baldwin cut the lead to 51-41 with 2:29 left, but it was too little, too late.
"We had our chances, especially when we make a nice run but miss some easy ones we need to make," Toot said. "When you don't make shots, it makes the rest of your game difficult.
"We just didn't get to the line enough," he said. "We weren't strong enough with the ball. We needed to be a lot stronger so the officials would call more fouls, but we turned it over and weren't strong enough."
Toot and Tommer both agreed the Bulldogs didn't meet their season goals, but both gave different reasons.
"I didn't think we ever fulfilled our full potential," Tommer said. "The main reason is because we couldn't put a full game of four quarters together and play consistent. Even though we didn't reach some of our goals I'll always remember those guys from all of the fun we had together. They were like brothers to me and they will be life-long friends."
Toot took the blame for the 12-9 season in which the Bulldogs won just two league contests.
"We did not meet expectations, no doubt," he said. "That falls on me as the head coach and I take responsibility for it. We had high hopes coming into this year, but we just never really got it going. It's hard, especially for the seniors, because they don't get another chance. I hurt for them, but that's athletics in general."