Every Bulldog won a state match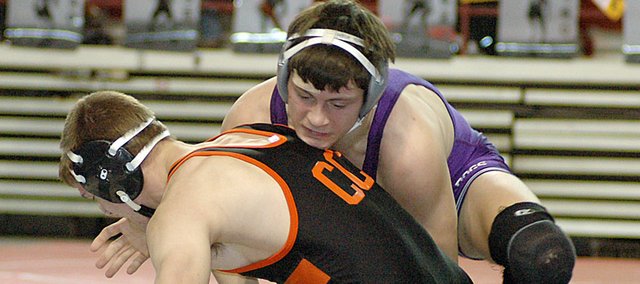 SALINA — Day one here was a success — everyone survived.
Day two ended quickly with tough losses. In just a matter of 90 minutes, four Baldwin High School wrestlers' seasons came to a close at the Class 4A state tournament.
"I'm proud of everybody and how hard they wrestled," coach Kit Harris said. "We had our best day one ever, but day two was tough going 0-5. I can say I am proud of everybody."
Besides senior Alan Callahan, Friday's first-round action saw only junior Josh Hanson win his opening match. Senior Colin Busby, senior Andy Thurlow and freshman Andrew Morgan lost their first matches, but rebounded later in the day.
Hanson (130 pounds) beat his Columbus opponent with a third-period takedown to begin the tournament 1-0. In the quarterfinals, Hanson lost 5-3 to Abilene's Courtney Strauss. Hanson tied the match 3-3 late in the third round with a takedown. Strauss quickly reversed him, winning the match.
Unfortunately, Hanson found himself faced against a tough Chapman wrestler Saturday. Hanson was pinned late in the second round, ending his season with a 25-14 record.
"He had to win that one in the quarterfinals or he was going to have a tough draw on the backside," Harris said. "He gave it a good shot by taking that guy down and tying it up in the third period. He just gave up a reversal really late. He had a great season and he has nothing to hang his head about."
After Hanson's loss, the other trio of Bulldogs competed in the consolation bracket's first round. Morgan (103) fell behind 5-0 quickly in his match and avoided being pinned for more than one minute.
Morgan tied the match, but again fell behind 10-5 in the match. He tied it up 10-10 in the third period. In overtime, Morgan scored a nearfall to win the match 12-10.
"He's an exciting little fireball, that's for sure," Harris said. "He is never out of a match. He got better and better as the season went along. He is going to be a good wrestler for us in years to come."
The BHS freshman lost 16-9 on Saturday to end his season at 21-24.
"At first I was kind of disappointed, but once I started thinking about it, I was happy to qualify and win a match as a freshman," Morgan said. "I got a little nervous in that match, but it was exciting to win it."
Thurlow (135) crushed his Concordia opponent. He won by major decision, 15-1 to advance. In the next round, Thurlow led 6-2 in the first period when he was reversed and caught on his back. He was pinned, ending his season at 28-16.
"Andy was beating that kid, but got caught and pinned," Harris said. "That kid ended up placing. Andy lost to the fifth and sixth place guys and he was right there with them. He turned himself into a really good wrestler after starting in ninth grade."
Busby was battling a tough match in the consolation bracket against Clay Center's Zach Anderson. Busby scored an escape point with 10 seconds remaining to win 6-5. However, he lost 7-2 on Saturday to end his season with a 25-11 record.
"Colin was in what some called the toughest bracket in the whole tournament," Harris said. "His one win was a third-period escape and that kid was ranked in the state for a long time. He wrestled with so much heart."
Busby said he was happy to win a match in his second trip to the state tournament.
"I thought I wrestled well," Busby said. "I had a really even bracket with a lot of good guys. There were no freaks, but a lot of good solid competition. I honestly thought I was going to go 0-2, so I was really happy with my one win."