Education support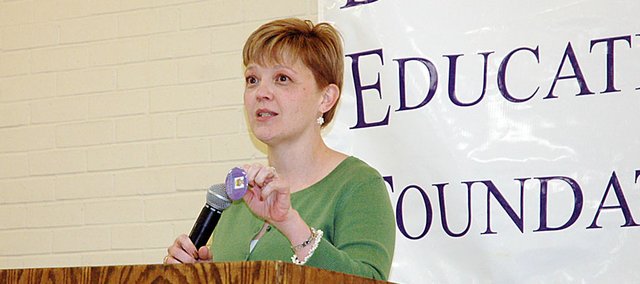 Q. What is the Baldwin Education Foundation?
A. The Baldwin Education Foundation is a non-profit foundation with the sole mission is to support the students, faculty and staff of the Baldwin School District and help them achieve excellence. For example, this fall we awarded $7,500 in "Innovative Project Grants" to classroom teachers for unique hands-on projects for their students.
Q. What is the purpose of the State of the District Breakfast?
A. This is the third year for the State of the District Breakfast — it is the primary fundraiser for the foundation. While it is a fundraiser, it is also a celebration of public education in our community. Sometimes in all the worry about funds and budgets, we forget what terrific accomplishments our students are achieving. I think the breakfast is a reminder of that excellence.
Q. How much money does the annual fundraiser usually bring in for the foundation and what is it used for?
A. Historically the event has raised nearly $7,000. The funds go directly to benefit the Innovative Project Grants awarded each fall. For example, fifth graders at the Baldwin Elementary School Intermediate Center received a grant for a "Button Making Business." Kathy Dorsey later received Kansas Economics Teacher of the Year for creating this project.
Q. Why was the State of the District Breakfast moved to Stony Point Hall this year?
A. We had a scheduling conflict with Baker University. Although the location has changed to Stony Point Hall, Baker is still catering the event — so the tasty food we have come to expect will remain the same.
Q. What other fundraisers does the foundation hold during the year and how can people make private donations?
A. We are so fortunate to live in such a generous community. The Bunko fundraiser we held in January raised more than $1,400, and was a fun afternoon. We try to make giving as easy as possible. People can mail their tax-deductible contributions to BEF in care of the District office. On-line giving is also available through our Web site at www.baldwineducationfoundation.org.