Cooks click at Baldwin High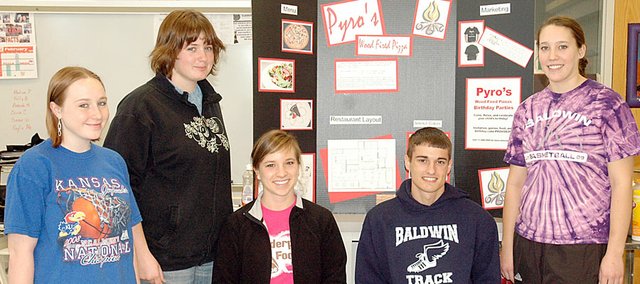 Opening a restaurant in the near future? If so, four Baldwin High School students could help you plan nearly every aspect of your new business.
They designed a wood-fired oven pizzeria at the eighth annual Kansas Restaurant and Hospitality Association's ProStart Student Invitational two weeks ago in Wichita. They impressed the judges enough to win the management team competition.
Connor Wright, Lauren Barnes, Rachael Enick, April Hostetler and Adrienne Yost (alternate) are state champions.
"They were really critical on our feedback, so we didn't think we did that well," Wright said. "I guess, we ended up winning so that was sweet. It was really unexpected."
Wright wasn't the only BHS student shocked when they were announced as the winner. BHS beat Olathe North and Wamego, who placed second and third. Overall, there were 15 high schools at the competition.
"It was very surprising to win," Hostetler said. "All of us were shocked. Mrs. (Sandra) Lawson was also very surprised. It was a good experience and it was fun to finally beat Olathe North."
Next up for the BHS students is a trip to the National ProStart Invitational to be held on April 24-26 in San Diego. The Bulldogs will be missing the annual Prom when they are in southern California.
"At nationals, the kids aren't going to be judged on this," said Lawson, BHS family and consumer science teacher. "They will present this to all of the other states that are there. It's a really cool thing.
"I'm so excited for the kids, I can hardly stand it," she said. "This is a great experience for them. Some of them will never have this experience again. It's something that will look great on a resume."
Planning a pizzeria
In previous years, the management competition has required students to have knowledge about the ProStart class and the food industry. This year it featured a team's industry knowledge through their participation with communication skills and ability to apply knowledge of the restaurant and foodservice industry by developing a business proposal for a new restaurant concept.
The students were given a $1.5 million budget to design their restaurant. Their plan had to include a layout of the building, staffing numbers, marketing ideas, menu and three pictures of food items they would serve.
"It was very time consuming, especially when you have seven classes a day and you're not allowed to concentrate just on this project," Hostetler said. "Plus, a few of the team members had sports after school."
Several ideas for restaurants were brainstormed, but the final idea was a wood-fired oven pizzeria. Both Wright and Hostetler gave credit to Barnes for the idea.
"When we first started talking about it, we thought a pizza place would be good for families and for college students, too," Barnes said. "Then we came up with something that would make it different with the wood-fired oven."
Nerves of steel
The BHS students agreed on the idea and ran with it. They spent many hours and days researching marketing, design and other elements of the industry. Then came time to present their project to a panel of four judges at the state competition.
"It's nerve racking, because you've got four people, who actually own restaurants, in there listening to you and you're just a teenager trying to propose a restaurant," Hostetler said. "It was cool that they were actually interested in our idea. One of the judges actually owns a wood-fired pizza place."
All of the BHS students said the judges seemed to ask them numerous questions, much more than they expected. Lawson agreed, saying she even asked one of the judges why her students were asked more than other schools.
Lawson said the judge told her they can do that, but she shouldn't worry, because her students answered them all correctly.
"We came out of it thinking we were one of the lower schools," Barnes said. "We felt like they kind of hammered us with the questions. It was good to know what they might ask us at nationals.
"We all walked to the front of the room and looked at each other, because we couldn't believe this was going on," she said of winning. "We went and sat back down and looked at our medals. Then it hit us that we actually got first. It was really neat."
Cooking competition
The other primary contest in Wichita is the culinary competition. In the culinary event, each team has one hour to demonstrate their creative abilities through preparation of a three-course meal judged throughout by professionals from the foodservice industry.
"I really love to cook, so it's really fun for me," Barnes said. "There is practicing involved, just like sports. It's a different type of competition, but you get your adrenaline going just like you do in sports. You're competing all the same."
Baldwin's dish placed third, only 2.85 points behind the top school, Olathe North, which placed first and second with its two teams. Blake Randels replaced Hostetler on the culinary team.
"The kids did an extraordinary job on the culinary portion," Lawson said. "One judge wrote that we could have won it all, but the kids just did a few minor things wrong. It's competition and they were very nervous. I thought they did very well."
Wright and Barnes were both impressed with how well the group performed in the culinary contest.
"That was probably the best we've ever cooked," Wright said. "We hit everything on time. It was really good."
Barnes also said the group camaraderie helped during the contest.
"We practiced a lot for that," Barnes said. "We thought that would be our better event. We were really happy to get third, because the school that won is really good.
"We get along really well," she said. "The judges commented on how well we work together. It's really fun. It can be stressful at times, but we can always depend on each other to help out when we need help."