It's time for repairs for Downtown Streetscape Project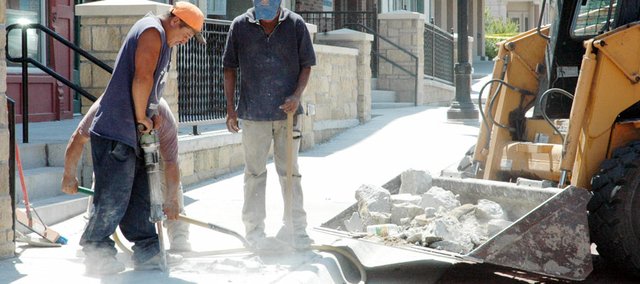 It's déjà vu all over again in downtown Baldwin City.
Bryant and Bryant Construction Co. workers returned on Monday to begin repairing faulty sidewalks and other items from the $1.8 million Downtown Streetscape Project that was completed more than a year ago. The crews had been a mainstay in the downtown area for a year and a half while the project was underway.
Several Bryant and Bryant workers were here last week to mark the sidewalk areas to be redone with orange paint.
"We had the engineer and contractor in for an inspection before our 1-year warranty period was up," said City Administrator Jeff Dingman, adding the warranty was up June 30.
The crews were removing the concrete from affected areas Monday morning. New concrete will be poured. The sidewalks in question had cracks in them.
"There are several areas of concrete that need attention, probably the worst single area is in front of Hickory Creek (Barbecue)," said Dingman. "There are also some issues with the irrigation system leaking."
It is unknown how long the repairs will take, but the price is right.
"It will be at no cost to us," said Dingman.