Running Club's first-ever event deemed a success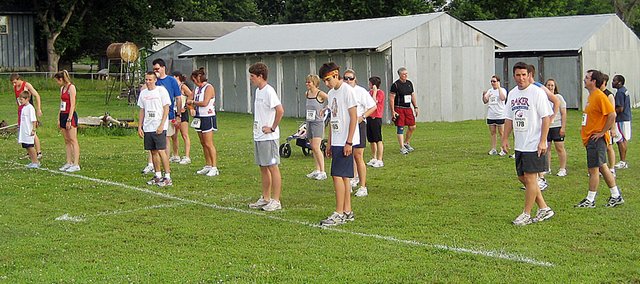 Baldwin Running Club's first-ever event drew more than two-dozen participants Saturday morning.
A total of 25 runners showed up for the Baldwin Biped 5-kilometer race at the Baldwin City Municipal Golf Course. The race was in conjunction with the annual Planes, Trains and Automobiles event that ran Saturday.
"We were hoping for anywhere between 20 and 60 runners and we got 25," said Andy Norris, race organizer. "That's a great number, because we had just as much in the way of resources that we needed to handle that group. There was no waiting around and everybody seemed happy about it."
Beth Morford, Baldwin Running Club organizer, was also happy with the turnout, considering the lack of advertising about the run.
"I was pleased with the turnout due to it being the inaugural run and because we didn't advertise much," Morford said. "It was mainly word of mouth and Web site advertising."
With temperatures in the mid-80s before race time, Norris was afraid the weather might be a problem. After the race, he felt it actually was a nice morning to run.
"The weather started out humid and looked like it was going to be sunny," Norris said. "It ended up being overcast and I thought it was really nice weather. It didn't rain the night before, which we were concerned about. The weather was good to us."
The race was won by Tosh Mihesuah, Baldwin High School sophomore. Trey Burton, a Jefferson West High student, finished runner-up. Jimmy Gillispie placed third, just ahead of Brandon Baltzell.
Karen Watkins won the women's division, as she finished closely behind Baltzell. Sarah Englert and Lisa Volk rounded out the women's top three finishers.
"We'd like to thank Mike Spielman for the equipment for the event," Morford said. "I'd like to thank my husband Casey for timing the race, too."
Both Morford and Norris said the club wants to host another race sometime in the near future, but no date is set.
"I would love to invite everyone back for another here in a couple months," Norris said. "It would be nice to have one near the end of Bulldog Days. We might reward the people who have been to Dog Days 25 times or something."
Morford said the club might be planning a different sort of 5K race, too.
"Yes, we have some ideas up our sleeves for future runs, including making the Biped 5K an annual run," she said. "We haven't decided on anything specific, but possible a GPS 5K out on the golf course. The runners would wear their GPS watches ... start at the same start line, create their own 5K based on their watch info and finish at the finish line. We have hopes that this will bring in a lot of runners. It will be a fall run most likely. We just want our events to be fun for runners."